Officials warn of a possible mpox surge this spring and summer
A cluster of mpox cases have been identified in Chicago. At this time, we are not seeing a rise in cases in SF, but we want folks to be prepared for a possible surge.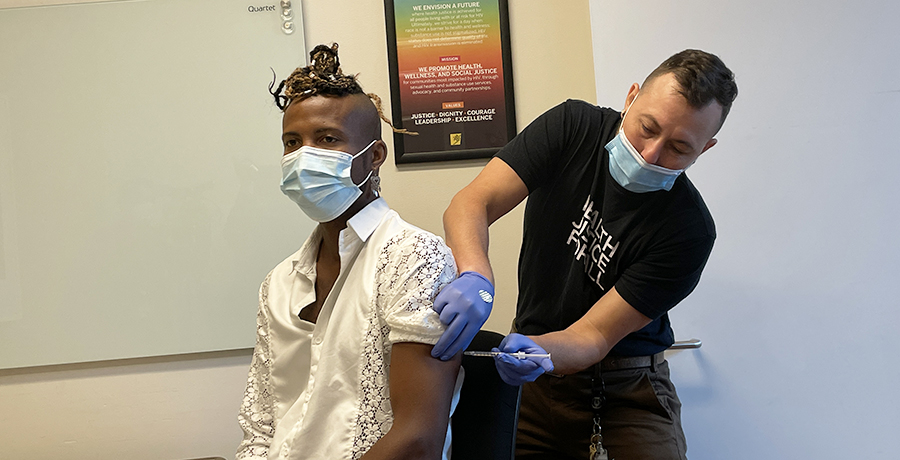 Media inquiries: media@sfaf.org
Public health officials convened by the National Coalition of STD Directors warned of a possible national mpox surge this spring and summer, after reporting a small surge in mpox cases detected in Chicago by Howard Brown Health and the Chicago Department of Public Health (CDPH). In San Francisco, community health organizations including San Francisco AIDS Foundation are preparing for a possible surge in cases by sharing information and resources about vaccination, testing, and treatment, and encouraging community members to learn what they can do to prevent the spread of mpox.  
"We are definitely concerned about a possible rise in cases here in San Francisco, especially after hearing about the upsurge in cases in Chicago," said Tyler TerMeer, PhD, CEO of San Francisco AIDS Foundation. "Last year, we responded quickly to an emergency situation with mpox. We advocated for increased vaccines and provided necessary testing and treatment resources for our community–and this work was informed by a race equity strategy. We hope to do our part to prevent a situation similar to what we saw last summer." 
"At this time, we are not detecting any surge in mpox cases here at our sexual health clinic in San Francisco," said Jorge Roman, MSN, FNP-BC, AAHIVS. "But with festival season and Pride quickly approaching, we want to be prepared for a possible rise in cases. We know that only about 23% of folks who may be at risk of mpox received both doses of the vaccine, so we're encouraging folks who did not receive the vaccine already to do so. We also want folks to be able to take steps to prevent the spread of mpox, and to be aware of possible symptoms so that they can seek out testing and treatment if needed. The good news is that we're in a very different landscape than we were last year–vaccine supplies are plentiful and easy to obtain." 
From Chicago, a representative from CDPH shared that 11 new mpox cases, plus five cases under investigation, were identified from April 17 to May 5. Howard Brown Health confirmed 7 of these cases,  six which were among fully vaccinated people, and one which occurred in a person who was partially vaccinated. All cases were among men who have sex with men who were between 31-46 years of age; two individuals were living with HIV with controlled viral loads. They reported that all cases of mpox were mild, except for one vaccinated individual who experienced moderate proctitis. 
"This vaccine does seem to mitigate some symptoms of mpox," said Demetre Daskalakis, MD, MPH, deputy coordinator of the White House mpox response. "It also seems to prevent hospitalization, which is really important." 
Patrick Gibbons, DO, AAHIVS, chief medical director for Howard Brown Health, addressed the question of why cases in Chicago have been largely among people who have been vaccinated. He speculated that "more resourced" individuals with easier access to healthcare were the ones seeking out testing–and those individuals were also more likely to be vaccinated. 
"My concern is that the more vulnerable communities that are less resourced are not able to get any tests… [and] that we are not capturing cases amongst our most vulnerable patients," said Gibbons. 
CDC deputy director Chris Braden, MD, said there were a few reasons why mpox infections may be occurring in people who received the vaccine, and that this is currently being researched. It could be that the vaccine may be "less effective than we have determined in studies so far," he said, that the vaccine's  effectiveness may wane over time, or that the virus may change to overcome immunity. He also said that it's possible the cases in Chicago were caused by a vaccine dose lot that was compromised, or that the clustering of cases were "the issue of chance observation." 
At this time, San Francisco AIDS Foundation medical advisors recommend the following to our community: