High effectiveness and adherence to PrEP 2-1-1 in large San Francisco AIDS Foundation study
At AIDS 2020, San Francisco AIDS Foundation presented positive findings from one of the largest pre-exposure prophylaxis (PrEP) 2-1-1 adherence and effectiveness studies to date.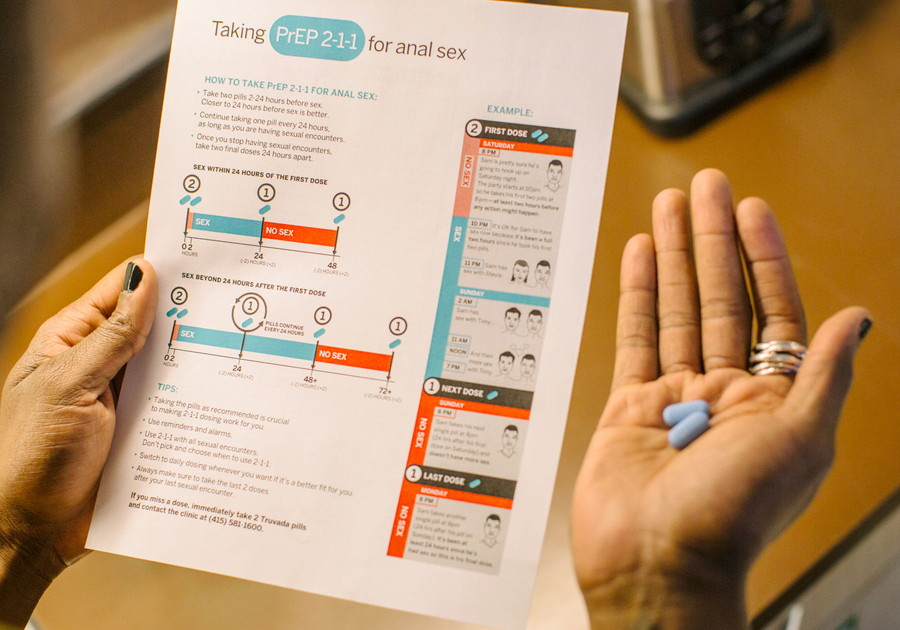 Contact: Emily Land or Chad Ngo,  media@sfaf.org, 628-222-5752
SAN FRANCISCO, July 9, 2020 — Today at the 23rd International AIDS Conference (AIDS 2020 Virtual) San Francisco AIDS Foundation presented positive findings from one of the largest pre-exposure prophylaxis (PrEP) 2-1-1 adherence and effectiveness studies to date. PrEP is an HIV prevention strategy that includes taking medication to prevent HIV infection. PrEP 2-1-1 dosing (also known as PrEP on-demand and event-based dosing) involves taking medication around times of sexual activity instead of daily.
Out of more than 3,000 participants taking PrEP, about one-quarter (24.3%) selected PrEP 2-1-1 as their preferred dosing strategy when given the choice between PrEP 2-1-1 and daily PrEP. There were no differences in HIV seroconversions between the two dosing strategies. 
"Many individuals are not aware of PrEP 2-1-1 dosing, but after learning about it, a significant number feel like this is the best dosing option for them," said Janessa Broussard, MSN, RN, AGNP-C, from San Francisco AIDS Foundation. "When asked about their PrEP use, a number of clients report not wanting to take a pill daily. It was not difficult for our clinic to incorporate education about 2-1-1 dosing strategies into our initial and follow-up PrEP visits. We give clients an instruction sheet and timer cap to track the amount of time in between doses, and the vast majority of clients are able to use this method appropriately." 
Studies have found PrEP 2-1-1 dosing to be highly effective, and the dosing method is endorsed by the World Health Organization, International AIDS Society – USA, and the European AIDS Clinical Society. However, the U.S. Centers for Disease Control and Prevention (CDC) has not provided guidance regarding use of 2-1-1 dosing for U.S. clinicians. 
The PrEP 2-1-1 study began at San Francisco AIDS Foundation in early 2019; data were collected from March 1, 2019 to May 31, 2020. 
A total of 3,345 HIV-negative cisgender male and transfemme individuals (not on hormones) were enrolled in the open-label prospective cohort study and provided with an educational intervention by the study team about daily PrEP and PrEP 2-1-1. Both dosing strategies were presented as equally effective in preventing HIV. Participants selected their desired dosing method and were able to switch between the dosing methods during the study. 
Follow-up visits that included adherence and dosing strategy assessments were conducted at Month 1 and then every three months. Participants also completed optional weekly email assessments of PrEP use, adherence, and sexual activity. 
The study team advised clients that PrEP 2-1-1 works best when sexual activity is predictable and occurs less than once per week. They also advised that PrEP 2-1-1 not be taken to reduce side effects, since both PrEP 2-1-1 and daily dosing carry low risk of side effects overall. 
All participants reporting dosing errors with PrEP 2-1-1 were offered non-occupational post-exposure prophylaxis (nPEP). 
Out of the 3,345 participants taking PrEP in the study, about one-quarter (24.3%; 814 individuals) used PrEP 2-1-1; 75.7% (2,531 individuals) chose daily PrEP. A slightly higher percentage of people newly beginning PrEP opted for 2-1-1 dosing (29.9%; 354 out of 1,182 individuals). 
Adherence to daily PrEP and PrEP 2-1-1 was high, and HIV seroconversion was rare in both groups. One person in each group seroconverted; both seroconversions were confirmed to be due to non-adherence. A higher percentage of individuals using PrEP 2-1-1 used nPEP (11 individuals, 1.3% of all 2-1-1 users, compared to 15 individuals, or 0.6% of daily PrEP users). 
"This study demonstrated that providing alternatives to daily PrEP for anal sex will make PrEP more accessible and attainable, and supports the need for further study of different PrEP options for everyone who can benefit from PrEP–incluidng those with vaginal or front hole exposures who cannot use PrEP 2-1-1," said Pierre-Cédric Crouch, PhD, ANP-BC, from University of California, San Francisco. "We recommend other providers endorse this strategy for their clients and build the support systems needed for clients to succeed–there is enough data to support PrEP 2-1-1 as an equal alternative to daily PrEP for anal sex." 
"The San Francisco AIDS Foundation project demonstrated that 2-1-1 dosing is preferred by many men and transgender women who have sex with men in the United States," said Robert Grant, MD, from the University of California, San Francisco. "Those electing this strategy were able to protect themselves using many fewer tablets. Some would not have started PrEP if 2-1-1 was not an option. The findings are consistent with findings from Europe and show that the strategy works in the United States as well. We hope the CDC updates their guidelines to reflect global standards, IAS-USA recommendations, and this new evidence."
Abstract Sessions On-Demand | OAC0503 |
OAC05 – Next Steps in PrEP
.
PrEP 2-1-1 education increases PrEP uptake and preserves effective PrEP coverage in a large nurse-led community-based sexual health clinic in San Francisco
.
###