The sound of resistance and existence
Gay men's choruses do more than spread holiday cheer--in the height of the epidemic, and up to today, they have fueled LBGTQ activism.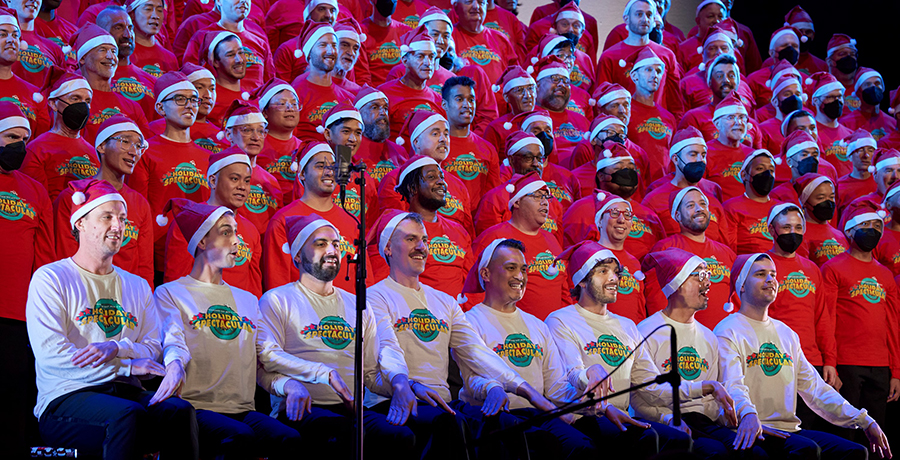 In just a few short days, The San Francisco Gay Men's Chorus, The Oakland Gay Men's Chorus, and gay men's choruses around the world will host some of the most anticipated holiday events of the year. But this year, it's more than just a holiday celebration — it's a celebration of queer existence. 
For the last few months of practice, gay men's choruses have been stewing in anticipation over rehearsals that brought laughter, and at times damp eyes, chins raised and heads defiantly held forward. With solemn conviction, they understood that they're sending a clear message: "We are still here." In a year that captured some of the queer community's most terrifying moments, this message couldn't be more relevant than now. 
This year, 23 states have introduced hundreds of anti-gay legislation–the most-ever in a given year–so many that it's hard to find where the count stands today. Among them are Alabama's bill criminalizing gender-affirming medical care for transgender youth, and Florida's law allowing teachers to lose their job if a picture of them and their same-sex partner leads to discussion that may appear as "instruction on sexual orientation or gender identity." 
So, for some, it's not surprising that a drag queen's birthday celebration unfolded into a massacre at Club Q in Colorado Springs just before families gathered for Thanksgiving. 
"This act of terror could have happened to any one of us," said Joe Rosenmayer, Board President of Oakland Gay Men's Chorus. "In these times, so many people are afraid to be themselves. When we get up and perform, we tell the world it's OK to be yourself." 
Gay men's choruses are no stranger to tragedy. Queer people gathering to sing existed in various forms through history but San Francisco Gay's Men's Chorus was the first to proudly center "gay" in its name following the 1978 assassination of San Francisco Supervisor Harvey Milk. Then, between 1979 and 1981 choruses formed in New York City, Dallas, Los Angeles, Seattle, Chicago, and other cities. It was the advent of the AIDS crisis that further solidified them as steadfast pillars of the LGBTQ community. Ever since, queer choruses all around the world flourished. 
"In the beginning of the AIDS crisis, the chorus would come to symbolize all the crisis represented — strength through adversity, activism, love, compassion, and devastating loss," explained Dale Becherer, a San Francisco Gay Men's Chorus member and San Francisco AIDS Foundation employee. As member after member fell ill, the chorus could not remain silent. Members created spaces to talk openly about the disease, and share advice on how to seek treatment. 
For many men who had strained relationships with their family, the chorus was the only support network they had and sometimes it was the chorus's punctuated notes that serenaded them softly to their last breath.
Within the San Francisco Gay Men's Chorus, like many men's choruses, there are four sections for Tenor 1, Tenor 2, Baritone, and Bass. But those lost to AIDS became known as the ever-lasting 5th section. "The loss in the early days was represented later in a stunning photo with those lost represented by members of the chorus facing upstage, while the few remaining faced the audience," Dale recalls.
While "gay" is centered in the name of many queer choruses, the invitation for membership is wide and welcoming. "We're not just gay men as many people would assume," Joe adds. "Some of our most active members don't identify as gay men. They're men, women, trans, and non-binary folks from many different walks of life. This includes even straight people!"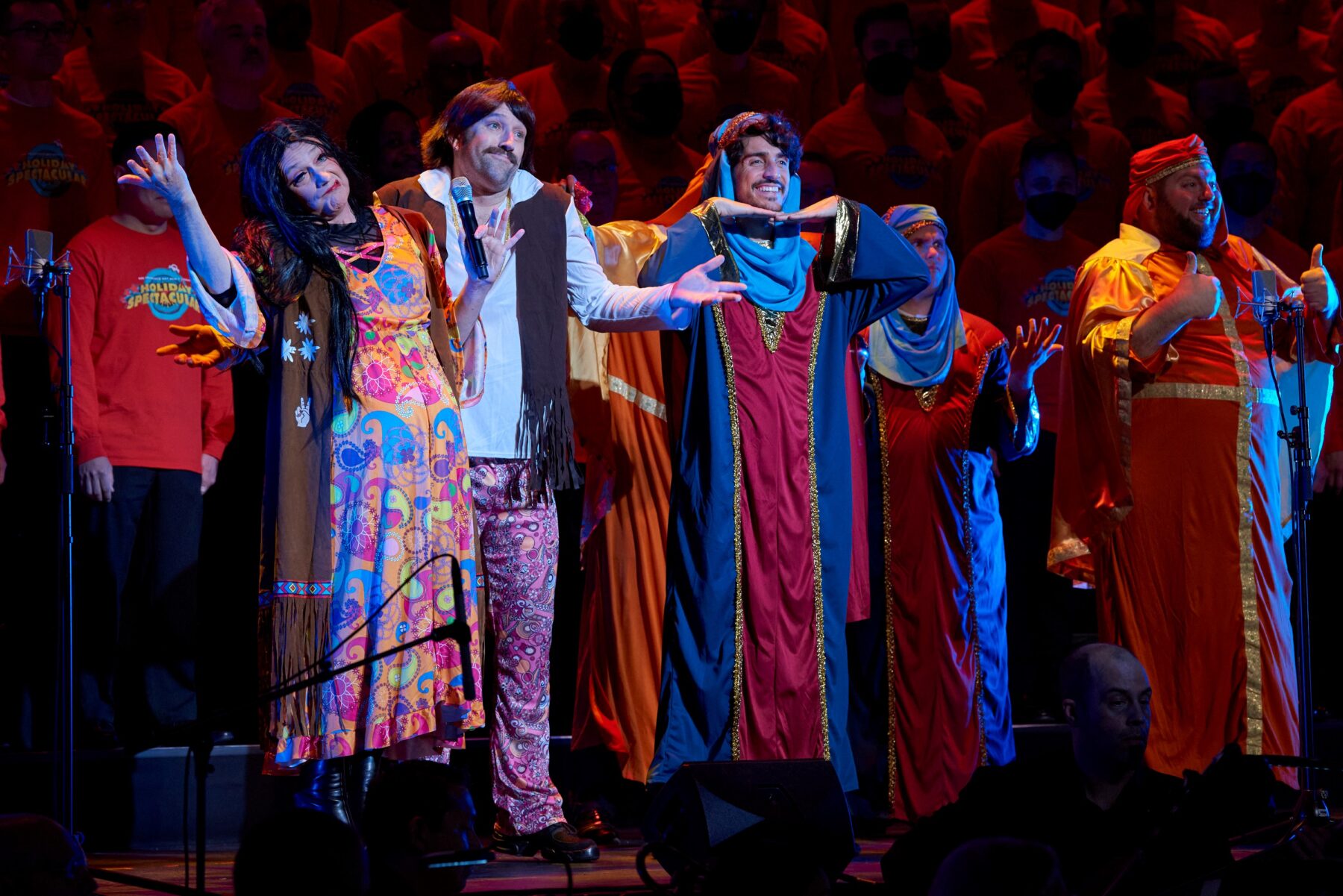 From whatever walks of life the members come from today, they're all donning their holiday flair alike, and inviting us to cosign their space in the world and celebrate the joy of being different through uplifting and hopeful music. 
Tickets for San Francisco Gay Men's Chorus and Oakland Gay Men's Chorus are still available, or consider supporting a chorus near you.