Strut evaluation report: More diversity, improved outcomes, and more room to grow
A new evaluation shows expanding services and more services provided to priority communities. But, improvements can be made in some areas.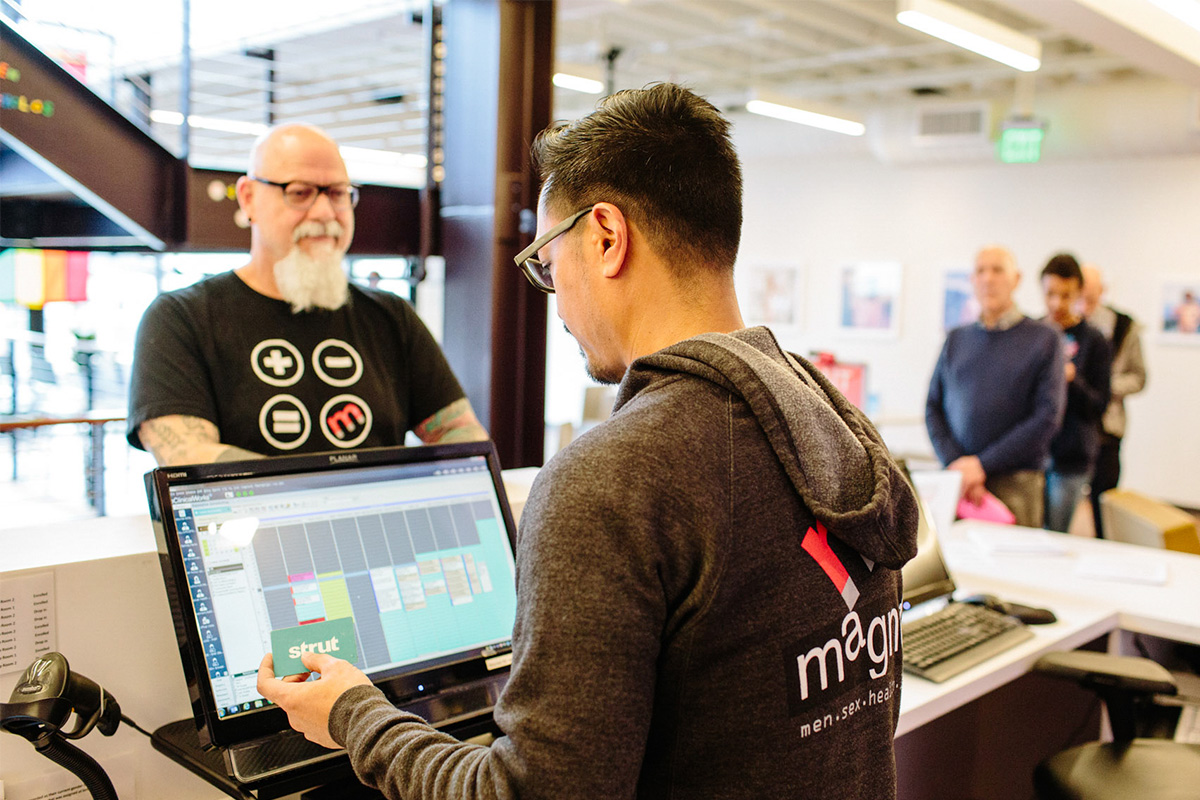 Jared Hemming, site director of Strut, the San Francisco AIDS Foundation's health and wellness center in the Castro, describes services at Strut this way: "Folks can come in and find support for many different aspects of their lives. Someone may come in for substance use issues, but then also find social support with one of our community programs that focuses on fighting isolation. Providing a range of support services allows us to have more of an impact in someone's life."
Open for almost three years, we wanted to take a close look at what was working and where we can improve. We hired Learning for Action, an independent research firm, to compare data from 2015 and 2018 to identify the impact of Strut and areas for strategic growth for programs and services located there. Other cities have looked to Strut as a model and we hope that having a formal evaluation enables lessons learned that can be applied internally as well as around the country.
Here's what we learned.
A more diverse population
Since 2015, Strut's staff is serving a more diverse group of clients—specifically higher percentages of Latino, Asian and African American clients.
HIV affects people of color and other marginalized communities at a higher rate so creating an accessible space for communities of color has been a priority at Strut. Data show the effect of offering events like "PrEP Rallies" and "Black Love" that prioritize queer and trans people of color.
"For African American people it's ground-breaking. We weren't welcome up here [in Castro, prior to Strut]. I do feel welcome here. First time in a long time." –Strut client feedback
Increasing efficiency and the number of clients served leads to better outcomes
Magnet, the sexual health clinic at Strut, is a leader in GBQ men's sexual health care, and demand from the community for testing and PrEP continues to grow. Magnet sees between 80 and 100 people per day, and is responsible for enrolling an estimated 10-15% of San Francisco's total PrEP enrollments.
"With PrEP came the opportunity to increase our staffing size and meet the demand for services from the community," said Joshua O'Neal, director of sexual health at Strut.
"I have been using Strut for free STD testing and treatment over the years. I started when I was 18 and have been coming ever since. It's been wonderful and always free. Healthcare isn't easy to access due to immigration status so I love the free services." –Strut client feedback
More than 4,000 people have started PrEP through our PrEP Health Program. A higher percentage of HIV-negative people accessing services at Strut are taking PrEP now (45%) compared to 2015 (27%).
Adding an "express" service for return visitors seeking HIV and STI testing added 300 appointments to the clinic per month and made it easier to get tested more frequently. When communities test more frequently, transmission of HIV and STIs declines.
The percentage of people reporting an STI test in the previous three months increased (50% in 2015 vs. 70% in 2018) as did the percentage of people reporting an HIV test (50% in 2015 vs. 68% in 2018) in the last three months. These testing rates were much higher than among a comparison population of gay, bi, and trans men not accessing Strut services during this time period.
Supporting our community of people living with HIV
Although we do not provide ongoing HIV primary care services at Strut, there are many services designed for people living with HIV, including rapid HIV start for people who are newly diagnosed or out of care, "The Dr. Is In" learning events, and HIV health care navigation, retention, and adherence support services.
Approximately 19% of Strut clients are living with HIV and most are engaged in HIV care. Among people living with HIV who had accessed services at Strut for at least three months, 99% had a regular medical provider, 92% were currently taking HIV medications and 75% had a medical visit in the past three months, up from 64% in 2015. Nearly nine in 10 (89%) reported being virally suppressed, a significant increase from 81% before Strut opened.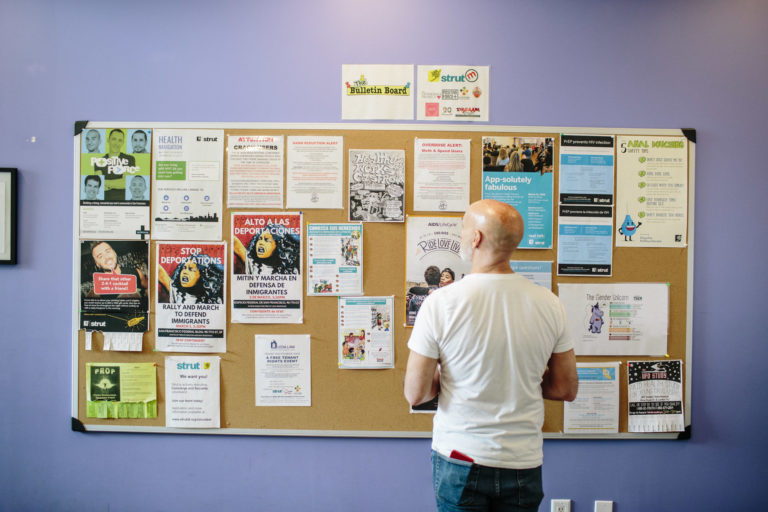 Promoting harm reduction for substance use
Groups and individual counseling services are available at Strut for people interested in addressing their substance use. We also support people with harm reduction supplies including new syringes, works kits, overdose prevention and more.
It was difficult for us to measure the impact of substance use and mental health services on clients, since harm reduction goals may vary widely. Many of our clients use substances, and some report struggling with their use. In general, drug use among clients decreased somewhat compared to 2015, with declines in popper, alcohol, and cocaine use, and stable levels of meth use. The demand for substance use services continues to outstrip current capacity, though a higher percentage of people in 2018 reported currently being part of an alcohol use program than in 2015 (7% compared to 5%).
We saw a drop in reported binge drinking (having six or more drinks on one occasion on a weekly basis) in 2018 (4%) compared to 2015 (10%).
"This organization helped me get back to my life and build my confidence and think about my future, especially my one on one counselor." –Strut client feedback
Need for more mental health support
Mental health services go hand-in-hand with the substance use services offered at Strut and many people in substance use programs also receive mental health support. The percentage of people who report "feeling down, depressed or hopeless" doubled during the evaluation period (19% in 2015 to 41% in 2018). Based on interviews and focus groups conducted as part of the evaluation, it's likely that this increase was due to increased fear stemming from the election of the Trump administration as well as ongoing concerns of losing housing as San Francisco rents continue to balloon. Increasing opportunities for mental health support and wellbeing is a priority for Strut moving forward.
Strut is a gathering space for many people that may feel disconnected from other communities in San Francisco and the larger Bay Area, and community programming at Strut aims to bring people together to form friendships and build networks of social support.
"Our community events help remind queer people that their lives are important, vital, and powerful," said Baruch Porras-Hernandez, community organizer at Strut. "Many of our activities aim to make queer people of color and trans folks feel welcome in our space and better connect them to our services. We often provide a space where queer people can feel appreciated, where they can learn, feel inspired, or just relax."
With input from our Community Advisory Board and Strut staff and leadership, we will use these findings to continue to expand our service offerings, deepen community connections and improve community wellbeing.
—
Find out how Strut fits into your life. See upcoming events, join a substance use program, check out sexual health services including PrEP and testing, and find other ways to get involved.
Read the full Strut evaluation report by Learning for Action or read the Executive Summary.
Jen Hecht, MPH is the senior director of program strategy and evaluation at San Francisco AIDS Foundation and co-founder of the Building Healthy Online Communities project. Her research focuses on developing STI and HIV prevention interventions and binge drinking in the queer community.