Regaining my strength as a Black, Queer sexual assault survivor
I said "no" and I was ignored. The aftermath nearly destroyed me, but I managed to find support and reclaim my life and my power.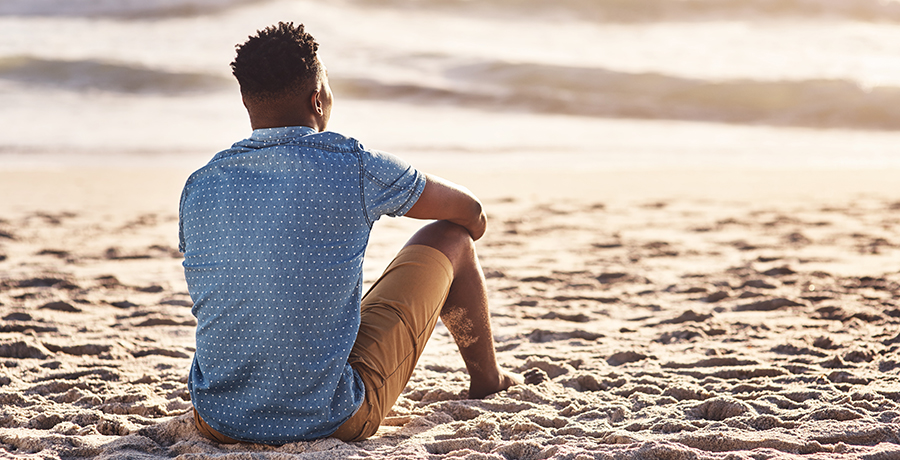 Content warning: This article discusses sexual assault. Support resources listed at the end of the article. 
It was a night that would forever change my life—a night when I said no but wasn't heard. We met at a wine bar in downtown Palo Alto, and I said no. We talked about his book collection in his two-bedroom apartment, and I said no. He promised he wouldn't touch me, and I believed him, only to have to repeat that word again when he looked into my eyes. Despite his assurances, he did exactly what he said he wouldn't do.
In the aftermath, I felt like a scared animal, needing to retreat and hide from the world. I wanted to dissociate myself from the emotions that threatened to overwhelm me. I convinced myself that if I made the experience emotionless, it wouldn't hurt as much. But the truth was, I was hurting, physically and emotionally.
For months, I carried the weight of what happened, trying to bury it deep within me. Questions gnawed at me—did meeting on Grindr mean I wanted it? Did accepting the wine mean I had to be agreeable? Did my lack of physical resistance imply enjoyment? These assumptions and stereotypes felt like lead weights. I was convinced that as a 23-year-old Black man, I couldn't be a victim of such a crime.
I attended a sales conference to represent my company, yet my mind was preoccupied with the trauma. It took me eight hours to realize that even in a room full of people, I could feel completely alone. My body knew what I hadn't fully acknowledged yet, and it reacted to the violation I had experienced. My skin still remembered his touch, and my muscles ached with tension. I developed canker sores and constipation as my body tried to process the emotional turmoil.
My experience isn't uncommon. The statistics are alarming, revealing that queer men experience sexual violence at similar or even higher rates than straight individuals. Men, in general, rarely report abuse, making it even more challenging to grasp the full extent of the problem. Our pain remains invisible, and I can only imagine how much more hidden it might be for Black and queer men.
When my best friend encouraged me to go to the police, I did, but only after questioning myself the entire way on CalTrain down to Menlo Park. They are going to laugh me out of the station, I thought. I had been searching for a therapist, and she happened to call me on the train. "Is this Charles," she began. "Yes," I said in a muffled whisper. When she asked what was bringing me to therapy, I felt ashamed. I refused to tell her. "No worries, we can talk about it in person," she said. 
When I arrived at the police station, it was a sunny day, but I felt thunderstorms inside. The circumstances surrounding the incident made it difficult to pursue criminal justice. There was no rape kit and when the police brought Karl* in for questioning, he claimed we never had sex. In fact, he explained that the story had to be entirely made up because "he is a bottom." It was my word against his. Sadly, like most sexual assault cases, this one wasn't going anywhere.
I wanted Karl to feel and know the gift of self-doubt he had given to me. He had used my heart as a coaster and I didn't think he'd ever realize it. That night Karl stole something from me, and I wasn't sure if I'd ever reclaim it. I wanted to confront my assailant, to make him see the pain he caused.
Instead, I chose to create my own form of justice. Friends and therapists encouraged me to discover what survivorship looks like. So, I found my voice in music. I wrote an album called "A Survivor's Reward," a collection of thoughts and emotions as I navigated my twenties. I found healing in the melodies and lyrics of my songs. 
In "Give Myself Permission," I expressed how unlocking my happiness was in my hands, and that also meant defining what justice meant to me. My definition allowed me to feel emotions, to say his name, and to tell my story. In the song "I said no" I quite directly explained what happened that night, and the hurt Karl caused. 
I realized that by telling my story, I gave permission for others to tell their story. Living powerfully isn't about erasing the scars of the past; it's about wearing them with pride, knowing they are proof of the battles I've won. I've learned that living powerfully is a daily choice—to show up, to be present, and to embrace the full spectrum of human emotions. It's about allowing myself to feel joy, love, and happiness, even in the midst of healing.
When the pain of Karl's assault strikes my memory, especially around the anniversary of the event each September, sometimes all I can muster is the strength to pull my noise-canceling headphones over my ears and blast my own music. As tears trickle down my cheeks, somehow it's like I've found a way to hug myself. 
I've discovered that true strength lies in vulnerability and authenticity. By sharing my story, I've connected with others who have faced similar challenges, fostering a sense of community and mutual understanding. Together, we are rewriting the narrative of powerlessness and replacing it with one of resilience and triumph. Friends, even ones I never expected, popped up like dandelions to share their story of hope and resilience. 
Karl may never see me. But I need to be seen. I must be seen. Being seen is part of the healing process. I just have chosen to step in front of the people who do choose to see me. That's how I survive. 
*Karl is a pseudonym.
---
If you or someone you know has been sexually assaulted, find LGBTQ-friendly sexual assault resources and hotlines below, compiled by the Human Rights Campaign. 
Let's Talk About It: A Transgender Survivor's Guide to Accessing Therapy
National Sexual Assault Hotline – can also refer you to a local rape crisis center
1-800-656-HOPE (4673) 24/7 or
Online Counseling at https://ohl.rainn.org/online/
Love is Respect Hotline
1-866-331-99474 (24/7) or Text "loveis" 22522
The Anti-Violence Project– serves people who are LGBTQ
Hotline 212-714-1124 Bilingual 24/7
LGBT National Help Center
National Hotline (1-888-843-4564) or National Youth Talkline (1-800-246-7743)
Online Peer Support Chat (https://www.lgbthotline.org/chat) or Weekly Youth Chatrooms (https://www.lgbthotline.org/yo…)
National Domestic Violence Hotline
1-800-799-7233
Text LOVEIS to 22522
FORGE– serves transgender and gender nonconforming survivors of domestic and sexual violence; provides referrals to local counselors
The Network La Red– serves LGBTQ, poly, and kink/BDSM survivors of abuse; bilingual
Hotline – 617-742-4911
Northwest Network– serves LGBT survivors of abuse; can provide local referrals
Hotline– 206-568-7777