"Rammed hard and fast": Here's what you said about pain during anal
You told us—pain during anal sex can be mind-blowing. Here's what you shared in our anonymous pain & sex survey.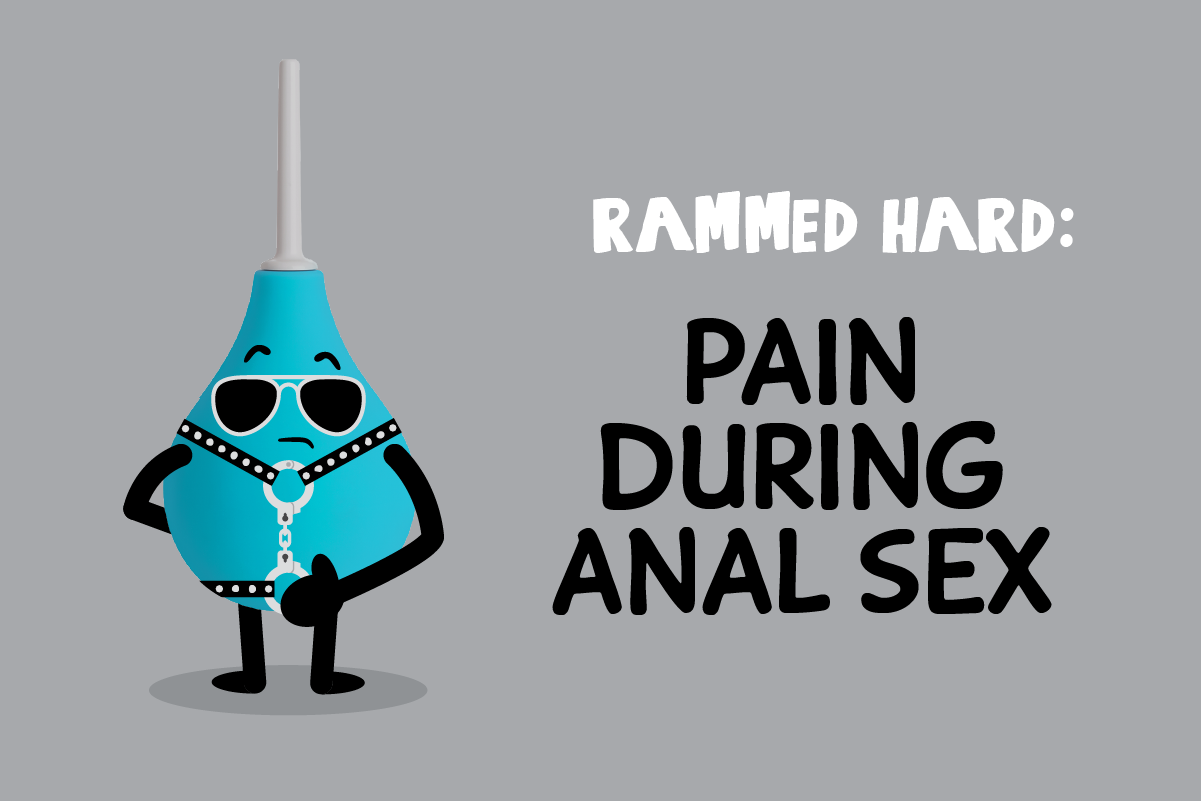 Do you like getting jackhammered till your hole is raw? Do you take pleasure in your partner's pain—turned on by their moans during rough sex?
We heard you loud and clear: Our community survey got hot and heavy last month with a variety of responses to our questions about pain and anal sex. I can't wait to fill you up with a hot-off-the-press load of info about what makes our community tick when it comes to pain between the sheets.
"I had a sub who liked rough anal sex and that didn't want me to use a lot of lube." –Survey respondent
About the pain & anal sex survey
First, a few words about the survey. We shared this 15-question anonymous survey with our social media followers, on our website and in our newsletters—to reach a convenience sample of people connected to San Francisco AIDS Foundation. The 412 people who took the survey likely felt they had something to say about pain and sex. (In other words, the sample isn't representative of our entire community or San Francisco.)
"Pain can be enjoyable, if your partner knows how to keep it at the right level." –Survey respondent
Who participated?
A total of 412 people took the survey. Most identified as male (85%). Cis-women, trans men, trans women, genderqueer people, gender non-conforming, gender non-binary and genderfluid people also took the survey.
About 80% of people identified as gay/homosexual. Other sexual orientations reported were bisexual (9%), straight/heterosexual (8%), asexual (1%), and "other" (mostly pansexual and queer).
Most people (96%) reported that they have anal sex (or have had anal sex in the past). For people having or who had anal sex, 52% reported being "versatile" (being the top and bottom), 29% reported being the bottom (the receptive partner during anal sex), and 15% reported being the top (the penetrative partner during anal sex).
Do you experience or cause pain?
Most people (86%) who bottomed said that they had at some point experienced pain when bottoming. 9% said they had never experienced pain, 1% said they "didn't know," and the rest said the question was not applicable.
Most people (64%) who have ever topped said that they have had a partner stop them during sex because it hurt too much. (One person cheekily replied, "Yes, due to my size," to this question.)
Do you enjoy the pain?
About half of people (51%) said that they have never enjoyed pain during anal sex. More than 100 people (36%) said that they have enjoyed pain during anal sex.
What kind of pain do you like?
This is where it gets juicy: More than 100 of you wrote in to explain what you like, and why! Generally, responses to the type of pain you enjoy fell into the following categories:
Enjoying pain as the result of being dominated ("I enjoy the pain because it puts me in a submissive head space. I feel like I'm being used for someone else's pleasure.")
Enjoying pain as the result of pinching/twisting/hair pulling/flogging/restraint (that is part of sex but not from anal penetration)
Enjoying rough sex (with pain as the side effect) ("Fast, deep 'pounding' can feel good from time to time.")
Enjoying the feeling that you're being pushed to your body's limits ("I like to be pushed to the edge of pain, so that the intensity is high and my senses feel like they're on overload.")
Being aroused by a partner's pain / submission ("I like to make my bottom moan while I rough fuck him.")
Enjoying pain after sex as a reminder of a hot session ("After, the anal soreness makes me think of him and the sex.")
Do tell. This is getting good.
We asked how people would explain pleasurable pain during anal sex to someone who has never felt it before.
One person described it as "like getting a tattoo: It hurts, but you know you still love it." Another person compared it to popping a painful pimple: "The first few seconds can sting, but the sense of relief and endorphins rush immediately afterwards floods out the momentary 'pain.'" A few other people compared it to the pain you experience when working out. "It hurts because it's a muscle being stretched. When you first work out, your muscles hurt because they're being stretched, but you feel good. Similar good feeling but exponentially better."
Other notable responses to what you enjoy from pain during sex include:
"A mixture of pain and pleasure, where the pain heightens the degree of pleasure/relief experienced."
"A little pain is cool. It feels like I'm taking it all in. Like I don't give up and love it."
"Butt burning good. Then the relief of him cumming and lubricating my butt with his hot load."
"A painful erotic distraction that allows the pleasure senses to grow in the background for an epic climax."
"I would say that pain during sex can be great—heightening all the sensations—if you trust your partner."
"Sometimes a little pain leads to great pleasure."
Our favorite response was from the person who said, "Here, let me show you."
Preventing pain
We also asked for your tips on how to prevent pain during anal sex. Most people mentioned the importance of using plenty of lube before and during anal sex. "[Use] LOTS of lube from the jump and add more maybe even if you don't think you need it," said one respondent. Another said, "Too much lube is almost enough."
Other people said:
Be patient with your partner and learn to listen and communicate during sex ("Don't be afraid to be a bossy bottom.")
Relax
Go slowly
Make "aaaah" rather than "ooooh" noises (somebody please try this, and report back!)
Use poppers
Stretch your hole first with fingers and toys
Practice with dildos first
Try different angles and positions
Don't douche too much before sex
Find a partner with a small penis ("Find partners who are not well hung")
Minimize or abstain from drugs and alcohol ("They can improve numbness which can be good at first, but intoxication does not lead to great, memorable sex.")
"Also- remember that there's a LOT of fun that can be had besides anal, so if it's not gonna work, it's OK to move on! No stress—this should be fun!" said one person.