Men on PrEP & HIV-positive men are getting hepatitis C during sex—here's why
The hepatitis C virus can live in rectal fluid and semen, which is why it can be transmitted during sex.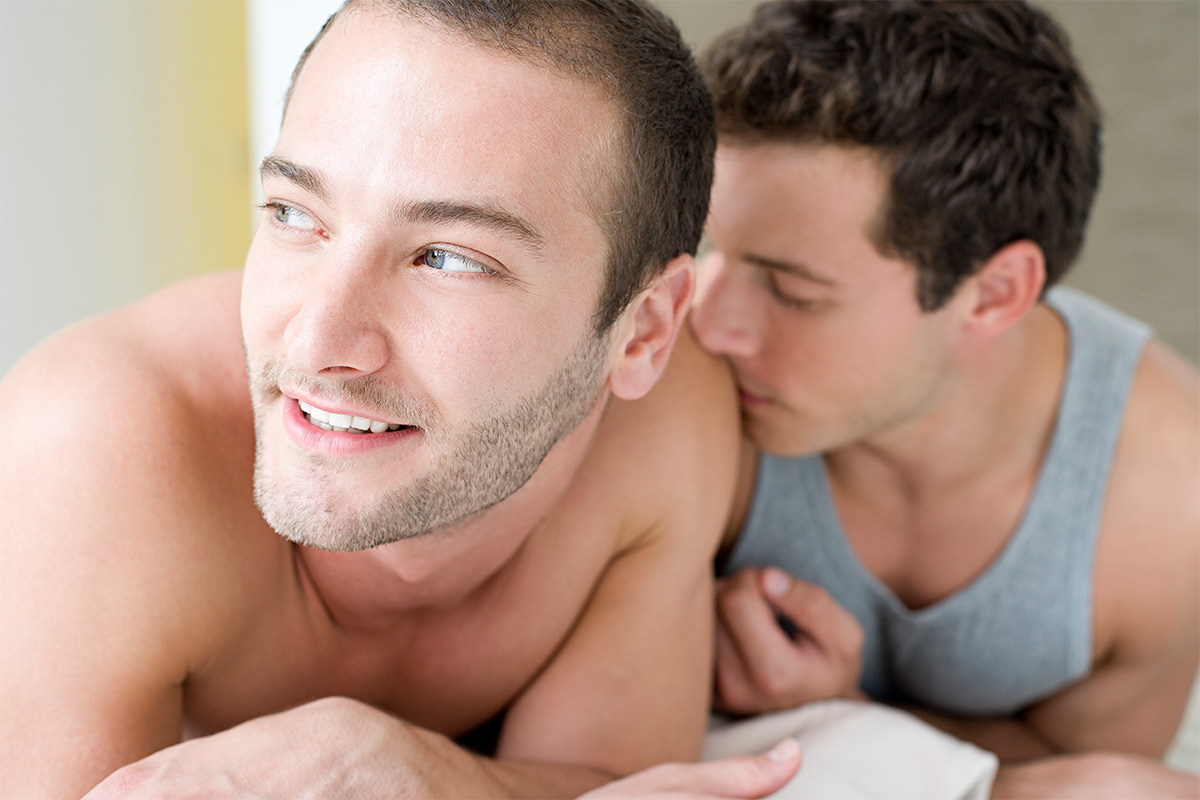 Hepatitis C is best known as an infection transmitted by blood, with most new cases of hepatitis C caused by sharing injection drug use equipment. But this dangerous infection, which can cause liver disease, also has a higher prevalence among men who have sex with men who are living with HIV. And, practitioners are more recently noticing cases of sexually transmitted hepatitis C among men taking PrEP. What is going on?
A new hypothesis of how hepatitis C is transmitted during sex
In 2016 and 2017, a team of researchers at the Icahn School of Medicine at Mount Sinai in New York published two research studies challenging the idea that blood needed to be present during sex for hepatitis C transmission to happen. Prior to that point, it was widely believed that only "traumatic" sex acts like fisting that produced blood put people at risk for hepatitis C.
Their first study showed that about one third of HIV-positive men who have sex with men, with recent HCV infection, have hepatitis C virus in their semen.
"About one-third to one-half of men with HCV shed HCV into their semen," Daniel Fierer, MD, the lead investigator of the study explained to BETA. "And some men just don't. The message is that if HCV is in someone's semen, and the semen gets into a person's rectum, that person may acquire hepatitis C."
In the journal article, Fierer and colleagues explain that because 10 to 20 HCV particles is enough to establish a parenteral infection, an average ejaculate (which might contain between 50 and 6630 international units (IU) of virus) could plausibly be enough to establish an infection. "These seemingly low HCV levels could play a significant role in sexual transmission of HCV when deposited into a rectum whose surface epithelial [skin] layer has been disrupted through anal intercourse," they said.
The results of this study explain how men who bottom without a condom might acquire hepatitis C. But what about when men top—are they at risk for acquiring hepatitis C if they top without a condom?
"The other body fluid I thought was necessary to look at—because semen doesn't explain all hepatitis C transmissions—is rectal fluid," said Fierer. In a second study, his research team tested the rectal fluid of men living with hepatitis C to see if they could detect the virus.
In a sample of 45 MSM who were co-infected with HIV and HCV, the researchers found that about half (47%) had detectable HCV in their rectal fluid. There was a positive correlation between HCV viral load in someone's blood and HCV detectable in their rectal fluid, with about 80% of men with chronic blood levels of viremia shedding HCV into their rectal fluid.
"Our data show that an inserted penis would be exposed to at least 2,300 IU HCV in rectal fluid for the duration of anal intercourse. Although the surface of the penis is dry epithelium composed of stratified squamous cells and therefore relatively impermeable to HCV when intact, in the setting of the continuous friction of intercourse, this magnitude of exposure could result in absorption of HCV," the authors said.
"This explains to me how sexual [HCV] transmission happens," said Fierer. "It can get into rectal fluid, so if you have a penis or a toy that comes into contact with infected rectal fluid during group sex, and then goes into someone else's rectum, transmission can happen. If infected semen gets in your rectum, you might get hepatitis C. Hepatitis C is not a 'professional' sexually transmitted agent. It's not as easily transmitted during sex as say, chlamydia or gonorrhea. But HCV can certainly be transmitted during sex."
How do we know sexually transmitted hepatitis C is happening?
Finding out how often HCV transmission happens during sex can be difficult in the "real world," when people are not tested for HCV regularly, or when researchers rely on self-report to find out if an HCV infection may have happened during injection drug use. There have been reports from clinicians around the world, however, documenting the sexual transmission of HCV.
"We are seeing cases of hepatitis C at Dean Street who report no risk factors other than anal sex," said Sheena McCormack, MBBS, MSc, FRCP, an HIV and sexual health clinician based at the London clinic 56 Dean Street. "Incidence is difficult to measure even amongst the PROUD participants who we are seeing and testing regularly as testing practices have changed over time. We were testing HIV-positive individuals who did not report additional risk factors more frequently than HIV-negative attendees but are now testing both populations. My estimate of incidence is 1-2% per year," she told BETA.
Among HIV-positive men attending a sexually transmitted infection clinic in Amsterdam, one study found that the prevalence of HCV increased from 5.6% in 1995 to 10.3% in 2010. This sample did include people who used injection drugs, although only a relatively small percentage of people (11%) reported this as a transmission risk (unprotected anal sex and fisting were separately found to be risk factors for HCV, giving evidence to support sexual transmission of HCV in this population).
In San Francisco, researchers at the Department of Public Health have reported rates of HCV among HIV-positive men who have sex with men (who do not use injection drugs) ranging from 4.5% (in 2008) to 12.3% (in 2011). "It is of note that among HIV-infected non-IDU men, HCV prevalence is more than 8 times higher than among the general population in the United States," explained Raymond Fisher, DrPH, the lead author of the study.
Sexual transmission of hepatitis C to men on PrEP
Sexual transmission of hepatitis C has also been noted among HIV-negative men who have sex with men on PrEP.
In 2015, practitioners at Kaiser Permanente San Francisco Medical Center published a short report in Clinical Infectious Diseases describing two sexually transmitted hepatitis C cases found among 485 men who have sex with men receiving PrEP at the clinic.
The first case was in a 46-year old man who started PrEP in 2013, who reported two cases of syphilis, rectal gonorrhea and rectal chlamydia from August 2013 to July 2014 and condomless receptive anal sex during that time. The second case was in a 37-year old man who started PrEP in 2013 who also acquired rectal chlamydia, rectal gonorrhea and syphilis between 2013 and 2014, and reported condomless anal sex during that time.
"In both cases, no risk factors for HCV infection were reported other than sexual intercourse without condom use," said Volk and colleagues. "These incident HCV infections suggest an important role for ongoing HCV monitoring for HIV-uninfected MSM receiving PrEP given the potential for sexual transmission in this population."
Fierer offered anecdotal evidence of hepatitis C transmission among men using PrEP.
"I have seen 10 hepatitis C infections among men on PrEP in the last couple of years," he said. "And these are men who do not use injection drugs so we can be reasonably certain they acquired hepatitis C sexually."
Are men living with HIV at higher risk?
Rates of sexually transmitted hepatitis C are certainly higher among HIV-positive men who have sex with men than HIV-negative men who have sex with men, although it's difficult to prove exactly why.
Fierer reasoned that more men living with HIV end up getting HCV through sex because HIV is much more efficient at transmission through sex—which means that people at risk for getting HCV through sex are more likely to be those who have already been exposed to (and acquired) HIV.
"If an HIV-negative man is at risk for acquiring hepatitis C through sex, that means he also might be at risk for acquiring HIV through sex. Chances are, he's going to become infected with HIV first, which is why these cases of hepatitis C appear as though they're largely affecting HIV-positive men," he said.
The question is, with PrEP breaking down barriers between HIV-negative and HIV-positive men, will the number of hepatitis C infections among HIV-negative men start to rise?
"That's what I've been saying," said Fierer. "We are going to see more cases of sexually transmitted hepatitis C with increased use of PrEP. I don't have a prospective cohort to prove it, but it's biological. The sun rises, the sun sets, and infectious diseases are transmitted."
Sexually transmitted infections and hepatitis C
New research, presented at the IAS 2017 conference in July, and published recently in BMC Infectious Diseases, shows for the first time that syphilis—but not chlamydia—also increases risk of sexually acquired hepatitis C infection.
This is an important finding, said Nicholas Medland, MBBS and colleagues, because it brings to light a new biological pathway that may increase risk of hepatitis C. Syphilis can cause ulcers in the mucosal surfaces of the rectum, which may heighten susceptibility for hepatitis C infection if a person is exposed to HCV during anal sex. (Chlamydia typically does not cause these types of ulcers, which is why the researchers think this infection was not associated with increased hepatitis C risk.)
"We wondered, why is it that some people get sexually transmitted hepatitis C and others don't? Is it something about people's sexual behavior? Or something about their bodies? So we looked at the risk factors for hepatitis C in our study," said Medland.
The study included data from 822 men living with HIV attending the Melbourne Sexual Health Centre (MSHC) in the Australian state of Victoria. All of the participants were receiving HIV care at the clinic, had two or more HCV antibody tests between January 2008 and March 2016 (with the first HCV test being negative) and had sexual contact with men as their first recorded risk factor for HIV acquisition. People were not included in the study if they used injection drugs (which is a separate risk factor for HCV).
The rate of new syphilis diagnoses among the men included in the study increased more than three times during the study, which lasted between 2008 and 2016.
"We found that if you got syphilis, this raised a person's risk for getting sexually transmissible hepatitis C by about four times," said Medland. "The overall incidence rate for hepatitis C was just over 1%, but if a person got syphilis it was closer to 5%. This is enough to warrant increased HCV testing, I think."
Get tested (and treated) for HCV
We now have a cure for HCV, with safe, effective medications that can cure the virus in about three months. The medications can be expensive, but government programs including Medicaid and Medicare cover hepatitis C treatment. There are also patient assistance programs to help people afford hepatitis C drugs.
San Francisco AIDS Foundation offers free HCV testing and linkage to treatment. Drop in on Tuesday, Wednesday or Thursday from 3 pm – 5 pm for HIV and hepatitis C testing to 1035 Market Street, Suite 400 in San Francisco.
For people outside of San Francisco, the Centers for Disease Control has a website where you can search for free HCV testing in your area by entering your zip code.
Help-4-Hep is a nonprofit toll-free helpline for people to get hepatitis C information and support. Call 877-435-7443 for more information about HCV treatment, cure and more.