I'm getting the monkeypox vaccine… as soon as I can find one
Well before the news media alerted me to the threat of monkeypox, my community had been murmuring about what was to come, writes Charles Orgbon III.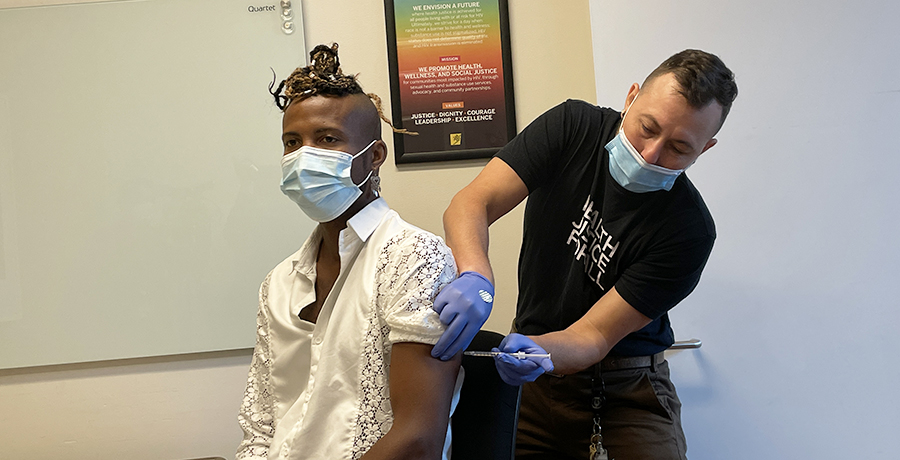 I'm getting the monkeypox vaccine…as soon as I can find one.
When a novel virus came out and headlines such as "Monkeypox is on the rise in the LGBTQ community" flashed across my phone, my senses heightened. Although it actually wasn't the news media who first alerted me. In fact, my very own community was already murmuring about what was to come.
We didn't know what it was or what it meant, where it was from and how exactly it would change our lives. Hell, we didn't even know how to confidently pronounce it. Folks were asking "Monkeypox? Monkeywho?"
After having trudged through two and half years of a novel Coronavirus pandemic, many of us are exhausted with public health advisories. Yet, our public health fatigue doesn't change the fact that an emerging virus is spreading rapidly across the world, and also across San Francisco. 
Monkeypox, a much milder cousin of smallpox, has been affecting gay and bisexual disproportionately  recently, because several large queer events in Europe may have facilitated the spread within the community. However, monkeypox can affect anyone, and exposure may come from contact with bodily fluids, infectious scabs or rashes, contaminated items like clothing or bedding, or respiratory droplets if you're very close to the infected person. 
Although monkeypox can affect anyone, I know exactly why it's affecting LGBTQ folks. I chuckle when the media says "parties" helped spread the virus among our community in Europe. I can't help but imagine my own time in queer friendly spaces, especially around Berlin, such as Kitkat Club. Whenever I meet a gay man that says he's been to Berlin, I always ask him "Have you been to Kitkat Club?" Going to Kitkat Club is like joining a secret society, but I'll give you a glimpse: Upon entering, guests must shed most of the clothes before walking into a warehouse full of secret passageways, dark rooms, stirrups and mattresses, making the perfect adult playground for some of the most sexually uninhibited parties. 
There was a comical meme that came out when the COVID-19 vaccine was released and it pictured the pool from Kitkat Club, and said "If you've been inside this pool, you don't need to ask what's in the COVID-19 vaccine." That's Europe. I can't think of anywhere comparable that impacts culture, attitudes, and sexual exploration in the United States as much as some of Europe's biggest queer sex clubs. Somehow that's also the perfect spot for an easily spreadable virus that causes fever, headaches, and lymph node swelling followed by an eruption of pus-filled blisters.
What I'm not seeing folks talk about, too, however, is that it's not just sex that makes this virus so easy to catch. You can literally catch the virus from touching someone who has the sores. That could be from relatives, friends, or co-workers. It's not surprising that LGBTQ people are more likely to have friends with people who understand their shared experiences of finding acceptance and belonging. And it's not surprising that queer men, for example, appear to me to be more affectionate in platonic ways because of how we already don't fit into heteronormative, homophobic boxes that say men can't be expressive. Homophobia creates the circumstances that drive queer people to places, sexual and non-sexual, where we feel welcomed and safe, and these places also end up becoming vectors for the virus.
So, knowing that just by being queer I'm at risk, where's my vaccine? 
Unlike COVID-19, where the world was advised to mask up until researchers could concoct a powerful vaccine defense against the virus, we already have the treatments to effectively combat monkeypox. "A swift, targeted vaccination campaign—one that identifies Americans at risk and persuades them to get a shot—is far more likely to stop the monkeypox outbreak," Monica Gandhi wrote in The Atlantic.
For weeks, the only people eligible to receive the vaccine were people who had been exposed to monkeypox. That didn't go far enough. The virus would have already spread by this time. Just recently, Mayor London Breed has requested U.S. Health & Human Services Secretary Xavier Becerra to send more supplies. With more supplies, San Francisco could certainly adequately tackle the problem. "San Francisco now has 141 diagnosed monkeypox cases, more than most states," she wrote on Twitter. 
At least for now, the global death toll remains low as well as the date rate (<~1%), and cases are manageable, but there's concern for what may lie ahead if the outbreak can't be controlled and we can clearly predict that gay and bisexual men such as myself will continue to be disproportionately affected. The World Health Organization already reports dramatic increases in the spread of monkeypox cases globally, and locally, the organizer of a San Francisco Pride event last month reported that one person who attended one of their events tested positive for monkeypox. At the end of July, there were around 200 cases of monkeypox in San Francisco. 
At this moment, we are still in the early stages of the monkeypox outbreak. We can change the course of this virus now! As COVID-19 taught us, not every community had equal access to information, testing, and vaccines, which was realized in the disproportionate death toll the virus inflicted. Is this another opportunity for us to take a public health advisory seriously and get it right this time?
---
Monkeypox Info & Updates from San Francisco AIDS Foundation
Monkeypox is circulating in our community, and we want to make sure you have the info you need about what's going on. Vaccines are limited, but you can sign up online to join the monkeypox vaccine waitlist. Get critical updates about testing, treatment, and prevention from SFAF.