Host events for trans people
Here's what we do to maintain safe, open, accepting and sex-positive spaces at Eros, a gay men's sex club in San Francisco.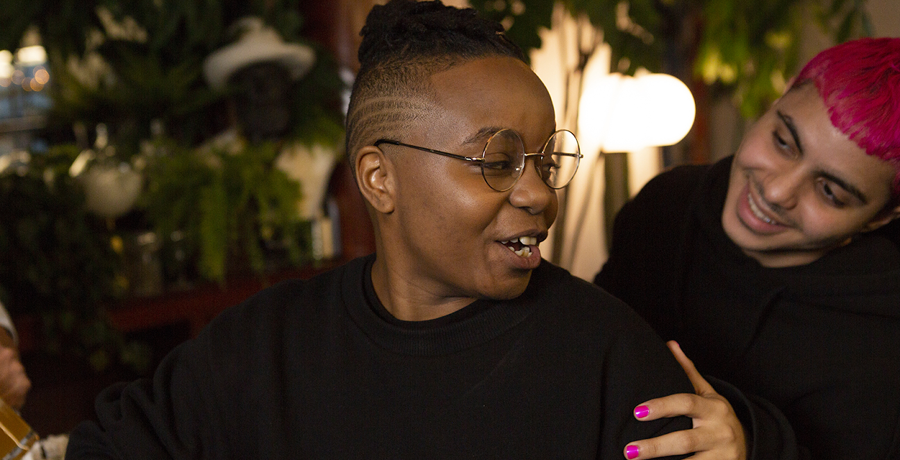 Do you know Eros? Eros is a gay men's sex club in San Francisco that is known in the queer community to be trans friendly (and oftentimes caters exclusively to the trans community with special events by and for trans folks). Trans men are welcome at Eros any day of the week, and special events bring in the larger trans and gender non-conforming community.
If you're outside of San Francisco or have never heard of Eros, maybe it's surprising to you that a sex club would be able to cater to the trans community, with events that bring in a hundred or more queer and trans individuals on a single one night. I certainly was surprised by how many trans people in our community showed up when we first started hosting Free Play and tm4m parties for trans folks.
People feel safe at Eros, which is important for trans people who experience harassment, unwanted comments and/or are outright victimized. Here's what we do to maintain safe, open, accepting and sex-positive spaces at Eros. Although these are suggestions that work for our sex club, I think they're also applicable to other nightlife establishments like bars or clubs.
Stop the gatekeeping
You don't have to ask trans people if they are men or otherwise inquire about their identity if they show up to your door. I know that trans men can sometimes be made to feel like they have to somehow "prove" that they belong at a gay sex club—which ultimately makes people feel unwelcome and unwanted. At Eros, we let people know the space is for men who have sex with men, and we let people choose if it's what they are looking for.  
Hire trans and nonbinary people
Having trans and nonbinary people work in your space will help create accountability and safety. At Eros, we've made a point to aggressively hire trans and nonbinary people. Doing that really helped get the word out that Eros is a safe place to be. We can't always control people's experience in the club, but people are always welcome here and if something happens, we're there for support.
It can also be more difficult for trans people to find jobs, in general. Maybe their ID doesn't match the name they use, or they're worried about the way they present. It's great when job opportunities open up for trans people, and when places of employment understand how to be sensitive to the needs of trans employees.
Be sensitive when you check IDs
If you check IDs at the door, know that it can be scary for trans people to show IDs, and traumatic if their name or sex on an ID doesn't match how they identify. It's a huge hassle (not to mention expensive) to legally change your name and sex on government-issued IDs. When you check IDs, one thing you can say is, "I'm not looking at anything except your age and your last name." There's no need to scrutinize the person's picture, either.
Host a night for trans people
You may be surprised by how many people show up. At Eros, we host events by San Francisco Community Health Center (SFCHC) with support from the San Francisco Department of Public Health specifically for trans folks.
Every month, we host tm4m, a sex party for trans guys into other guys. Quarterly, we host Free Play, a sex party for all trans people. Per year, one Free Play is for queer and trans people of color only, one is for trans and gender non-conforming people only, and two are open to cis people if they attend with a trans person. At our open Free Play events, 95% of people are trans, and we've had between 80 and 200 people show up to every event.
Provide education (but don't be afraid to enforce the rules)
If people are downright transphobic and are harassing clients that's when it's time to kick them out of the space. But I think that happens less than instances when people are truly clueless or just don't know how to interact with trans people. In those instances, I usually sit down and have a conversation with them. And generally, they ask, "What did I do wrong?"
Let trans people take the lead
Want to make your club or business open, accessible and safe for trans people? Listen to the trans people on your staff, in your life or who come to your space. Ask questions (but don't be rude), and really listen if they take the time to open up and share what changes you can implement that will make their experience safer and more enjoyable.