Harm Reduction at the Heart of SF's Meth Task Force Recommendations
Recently-released recommendations emphasize the need for compassionate, easy-to-access services for people who use meth in San Francisco.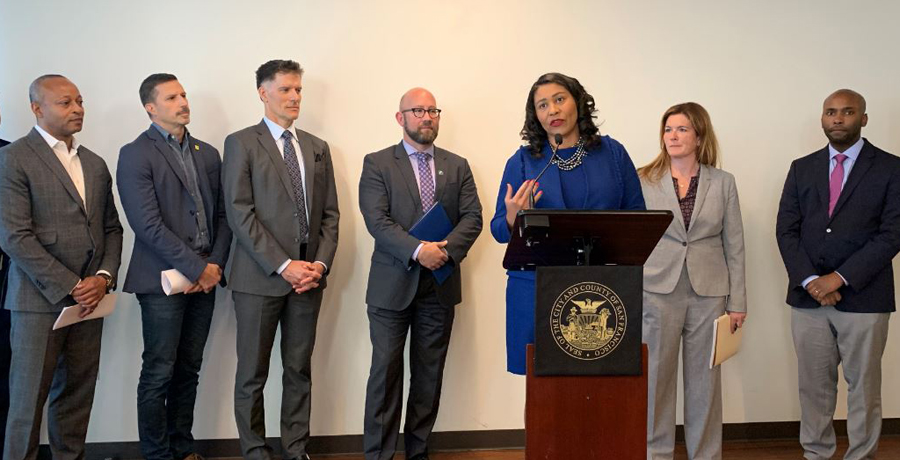 The number of San Franciscans who are overdosing and dying from methamphetamine use in recent years has increased dramatically. In 10 years, from 2008 to 2018, the rate of overdose death attributed to meth rose from 1.8 per 100,000 people to 14.6. A total of 126 San Franciscans lost their lives to meth overdose in 2018.
In the face of rising meth overdose rates, a growing burden on emergency responders and emergency rooms, the potential for disease transmission through injection drug use and outcries over public drug use, San Francisco public health and government are stepping up to study the issues and make recommendations for future change. A set of recommendations by the San Francisco Methamphetamine Task Force, released in October 2019, takes a harm reduction approach to address the inter-related effects of substance use, mental illness and homelessness.
"I'm proud of the release of these recommendations that in large part recognize what San Francisco AIDS Foundation's vision has known all along," said Mike Discepola, MA, senior director of behavioral health at SFAF. "We love drug and alcohol users, including meth users. We value community ideals that offer compassion and dignity to our lovers, friends, family members and community members who use, misuse and/or who struggle with substance dependence."
The recommendations largely focus on supporting people who use meth with compassionate, easy-to-access services that help stabilize people experiencing meth psychosis, reduce harms that can come from meth use, prevent overdose, link people to housing and other social services and support people to reach treatment goals that may or may not include abstinence.
"San Francisco is a city of compassion," said Grant Colfax, MD, director of San Francisco Department of Public Health. "We are driven by the conviction that all individuals deserve an opportunity to achieve their health and wellness goals."
Safe spaces for people who use drugs
Trauma-informed sobering sites, where people using meth who experience psychosis, agitation or violent behaviors are one proposed service in the Task Force's recommendations. The city plans to open at least one sobering center in the next three to six months, said San Francisco Mayor London Breed at a press conference on October 22 announcing the release of the recommendations.  
Meant to ease the burden on emergency departments, sobering sites would be equipped with trained staff who are able to respond to people under the influence of meth, on-site antipsychotics or sedatives to treat side effects and linkage to behavioral health services and other resources.
"We need places that are not psychiatric emergency services, that are not emergency rooms, and that are not jail for people who are meth-intoxicated, or in meth psychosis as safe places for them to be," said District 8 Supervisor Rafael Mandelman.
"The Department of Public Health is currently exploring locations for the center," said Mayor Breed.
The recommendations also call for increased availability of safe indoor spaces that fit into the lives of people who may experience unstructured schedules and chaotic events, including people experiencing homelessness. These spaces should provide easy-to-access services that affirm the humanity and dignity of people who use substances and provide compassionate care and services. Examples include drop-in centers such as SFAF's Harm Reduction Center, shelters and navigation centers.
Overdose prevention programs (e.g., supervised injection services and safe consumption services), that provide safe, sterile spaces for people to inject or use drugs, are also called for.
"I care about opening safe injection sites, and that has been a focus of my administration. I'm really optimistic that we are closer than ever before to getting there," said Mayor Breed.
"It is time for San Francisco to move forward with opening overdose prevention programs and sobering centers for meth users," said Joe Hollendoner, CEO of SFAF. "We are determined to make these life-saving programs a reality as continued stigma and criminalization are not the solutions to this public health crisis."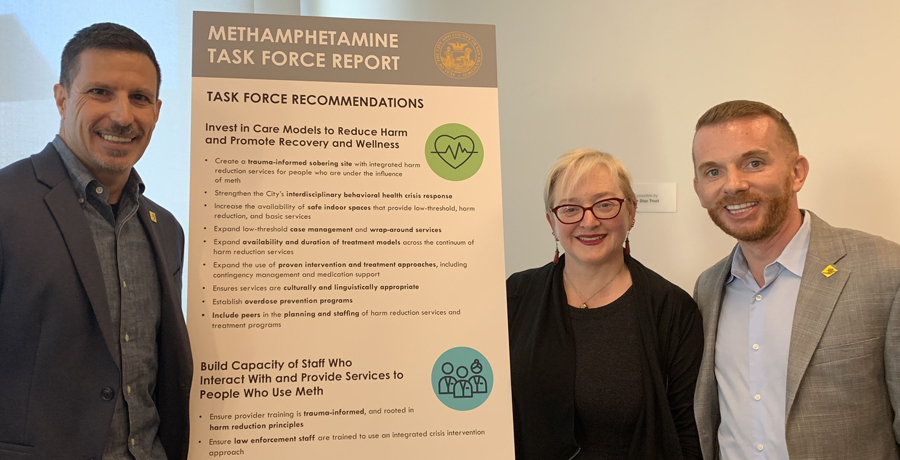 From left: Mike Discepola, Laura Thomas, Joe Hollendoner (Photo: SFAF)
Drug treatment & support services
Recognizing that abstinence from meth may be the goal for some—but not all—people who want to make a change to their use, the Task Force's recommendations call for an expansion to the types of treatment options available. Non-abstinence-based residential treatment programs, contingency-management programs and low-threshold programs are all named as examples.
"There are many ways that people can reduce harms that can come from substance use, that may or may not include abstinence," said Alex Locust, MS, APCC, CRC, a counselor at the Stonewall Project. "Harm reduction strategies can include things like changing the environment you're using in (e.g., by providing safe spaces for people to use indoors instead of on the street), processing shame and stigma related to use, reducing how much you're using or when you're using, transitioning from injecting to smoking, continuing to use one type of drug but quitting another drug, and more."
As suggested by the Task Force, SFAF is expanding free, easy-to-access substance use services at our Harm Reduction Center on 6th Street. We recently expanded our contingency-management treatment program, PROP (which offers monetary incentives to participants who stop or reduce their stimulant use) as "PROP for All" to serve people of all gender identities and sexual orientations, said Discepola. 
"There are many people in San Francisco who use stimulants including meth, crack and cocaine that may benefit from the contingency-management treatment options offered by PROP," said Rick Andrews, a counselor with the Stonewall Project. "For nine years, we have successfully helped hundreds of gay, bi and trans men and trans women address their stimulant use. Now, we are excited to offer structure, community, and weekly counseling in a safe, non-judgmental space to even more people." 
Wrap-around services, case management and housing for people seeking treatment are also integral components of the recommendations.
"I believe that when we accept drug users without stigma or shame and welcome them high, low, crashing and in all states of health, mental health and substance use and misuse—without stigma and shame—we have nothing to gain but vast improvements in serving all residents with substance use concerns to improve their health and functioning," said Discepola.   
---
Read the San Francisco Methamphetamine Task Force's recommendations
Find the entire final report from the San Francisco Department of Public Health. 
Find out more about SFAF's substance use services
We provide free harm reduction services for people interested in addressing their substance use, including drop-in counseling, incentive-based programs, alcohol counseling, treatment programs, harm reduction supplies including safer injection supplies and support groups.