January 14, 2021
Events Search and Views Navigation
2:00 pm
We may not always know it, but the narratives we carry have a significant impact on our lives. This group is designed to help you better understand the nature and...
Counseling | Support groups | Stonewall Project
4:15 pm
We are a drop-in group for gay, bi, queer and trans men of color. We support the lived experiences of Black, Asian, Latinx, African American and other queer men of...
Counseling | Substance use treatment | Support groups | African Americans | Gay, Bi & Queer Men | Latinx or Latinos | People Who Inject Drugs | People Who Use Drugs & Alcohol | Queer & Trans People of Color | Stonewall Project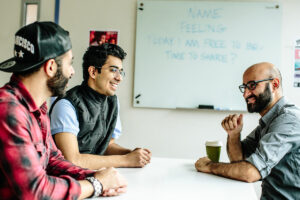 6:00 pm
Practicing harm reduction? Has the shelter-in-place changed your practice? Come get and give support, gain guidance from professional counselors & your peers. Facilitated by Shaina Madfes and Paul Kilfoil. Accessing...
Mindfulness | Social support | Substance use treatment | Support groups | Gay, Bi & Queer Men | People Who Inject Drugs | People Who Use Drugs & Alcohol | Stonewall Project
+ Export Events