Spiritual, social support & basic needs resources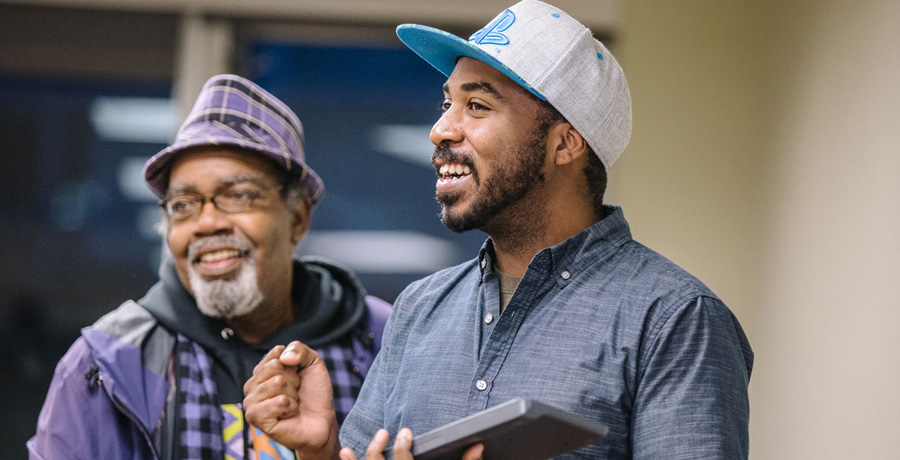 Black Brothers Esteem (BBE) and community engagement staff curated a list of resources for our community in response to COVID-19 and shelter-in-place orders. 
Broke But Not Bored 
Broke But Not Bored is a compilation of free or reduced cost events and services for Bay Area communities, compiled by San Francisco AIDS Foundation volunteers. Find the latest issue at https://www.sfaf.org/locations/harm-reduction-center/
TurnOut Resources 
TurnOut is an Oakland-based nonprofit connecting Bay Area volunteers with LGBTQ+ causes. They have a list of COVID-19 resources, for health, social, housing, financial, legal and LGBTQ+ issues. Find the list here: https://www.turnout.org/covid-19-resources 
Spiritual and/or Religious Services
Many spiritual and religious services are happening online or virtually.  
Sunday morning meditation: https://www.eventbrite.com/e/sunday-morning-meditation-tickets-88190960537?aff=ebdssbdestsearch
Free mindfulness and meditation class Thursdays, 6:30 pm – 7:30 pm: https://www.eventbrite.com/e/online-free-meditation-and-mindfulness-class-tickets-101859652964?aff=ebdssbdestsearch
Hartford Street Zen Center: Zazen meditation (LGBTQ-focused): https://hszc.org/
East Bay Meditation Center groups (POC, LGBTQ, disability-focused): https://eastbaymeditation.org/programs/zoom-links/
San Francisco Insight Meditation Community (LGBQ affirming): https://www.sfinsight.org/weekly-sittings-talks/
Glide Memorial Church: https://www.glide.org/church/
Most Holy Redeemer Catholic Church (LGBTQ affirming): https://www.mhr.org/
Metropolitan Community Church (LGBT affirming): http://mccsf.org/sunday-services/
Sha'ar Zahav Reform Jewish Temple (LGBTQ-focused): https://shaarzahav.org/
Muslims for Progressive Values – Bay Area (LGBTQ affirming): https://www.meetup.com/SF-Bay-Area-Muslims-for-Progressive-Values-Meetup/
Calvary Presbyterian Church (LGBTQ affirming):
o   https://www.calvarypresbyterian.org/
o   https://sfnightministry.org/
o   https://www.sfinterfaithcouncil.org/
Yoga and body movement
There are many free yoga videos available on YouTube.  https://www.youtube.com/ 
Do Yoga With Me has a wide range of yoga videos.  Some require a subscription but there is a HUGE library of free videos for all skill levels and types of yoga practices.  There are also pre-made yoga challenges and meditation videos. https://www.doyogawithme.com/ 
Qigong is similar to tai chi — a standing, moving meditation. Deeply cleansing and helps move your muscles and joints to keep your energy up. Some videos are free and most are subscription-based. The site is currently offering a free month-long subscription.  https://www.yoqi.com/ 
San Francisco AIDS Foundation events 
We're also conducting many groups and events virtually, including substance use treatment, case management, social support and social events.  https://www.sfaf.org/calendar/
Home Support 
The Department of Disability and Aging Services (DAS) has expanded home care options in response to the COVID-19 pandemic. Call the helpline at (415) 355-6700 or visit: https://www.sfhsa.org/services/protection-safety/emergency-preparedness-and-assistance/hsa-coronavirus-updates/covid-19.
Meal Delivery Services and Food Resources
CalFresh: CalFresh food benefits are available to individuals and families who have been impacted by COVID-19. CalFresh provides monthly food benefits based on household income and expenses at the time of application. Even if temporary, individuals and families who have experienced a change in their circumstances may apply for CalFresh through one of California's 58 counties. Californian's can visit GetCalFresh.org to apply or call 1-877-847-3663 (FOOD) to be connected to their local county social service office.
Project Open Hand: https://www.openhand.org/about-us/food-is-medicine
Meals on Wheels: https://www.mowsf.org/
Glide meals: https://www.glide.org/program/daily-free-meals/
Martin de Porres House of Hospitality: Martin's is a free restaurant, serving breakfast and lunch during the week and brunch on Sundays. https://martindeporres.org/
San Francisco Food Not Bombs: https://sffnb.org/
St. Anthony's Dining Room: https://www.stanthonysf.org/dining-room/
Rescue Mission: https://www.sfcityimpact.com/rescue-mission
Third Baptist: https://thirdbaptist.org/min/feed-the-hungry/
Bayview Hunters Point Multi-Service Drop-In Center: https://www.ccsf.edu/Resources/Family_Resource_Center/Clothing/THE_UNITED_COUNCIL_OF_HUMAN_SERVICES.htmhttps://ecs-sf.org/
Where to go during the day: 
If you can't return to your shelter bed until later at night, find drop-in spaces and places to charge phones at Project Homeless Connect. 
https://www.projecthomelessconnect.org/2020/04/where-to-access-services-in-san-francisco-in-march/
Mental Health & Grief Services
Free grief group: https://www.psychologytoday.com/us/groups/grief/ca/san-francisco/144206?sid=5e8b96db4e765&ref=1&tr=ResultsProfileBtn
Mental health resources: https://www.mentalhealth.org/
Online grief counseling: https://www.wellsanfrancisco.com/services/grief-counseling/
Grief services: https://www.ioaging.org/services/all-inclusive-health-care/psychological-services/center-for-elderly-suicide-prevention/grief-services