Look for our 33-foot mobile testing unit in neighborhoods across San Francisco. Get free HIV and STI tests, hormone level checks, sexual health counseling and safer sex supplies several nights a week. Every visit starts with a consultation with a counselor to discuss what tests are best suited for your needs.
Although everyone is eligible for our services, we specifically want to meet the needs of populations which are at highest risk for HIV and STIs: our queer communities; trans, non-binary and gender non-conforming individuals; people of color; young people; folks in the sex trade; people who use substances; uninsured individuals; and immigrants, among others.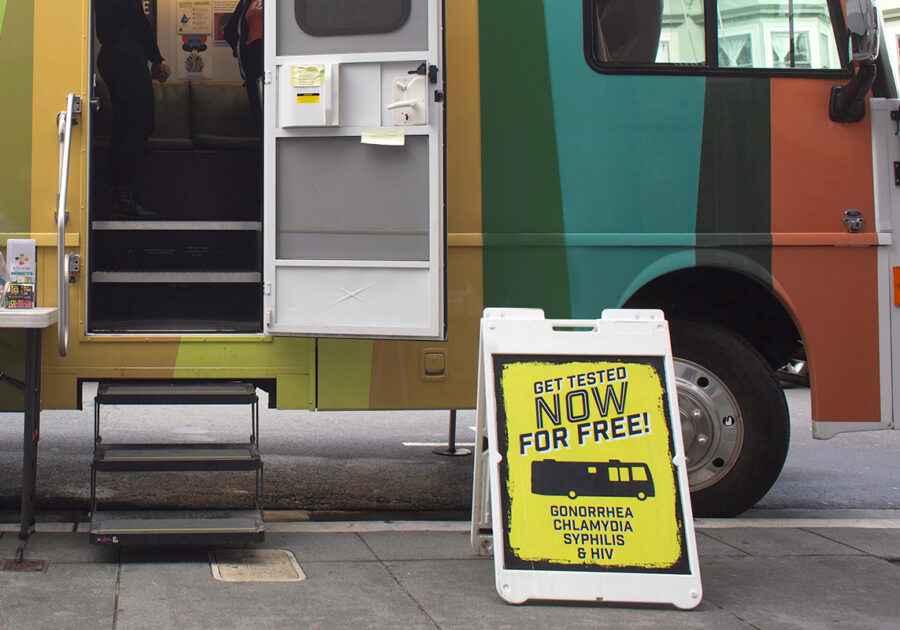 Mobile Testing Unit
Testing hours usually start in the late afternoon and extend into the evening. View the full calendar to learn where and when we're testing next. Call us if you have questions.
415-487-8037
Accessibility: There are six steps up from the sidewalk to board the mobile testing unit. There is a handrail available. The door is 78 inches tall and 27 inches wide. The mobile testing unit is not equipped with a ramp or wheelchair lift.
View More Dates & Locations
Want free HIV and STI testing at your San Francisco community event? Submit a request for the mobile testing unit to come to you.
We offer the following:
Rapid HIV antibody tests
Rapid hepatitis C tests
Hepatitis C RNA tests
HIV RNA tests
Pregnancy tests
Condoms and safer sex supplies
We only swab for gonorrhea/chlamydia and cannot accommodate urine testing at this time.
Clients who access PrEP through San Francisco AIDS Foundation may also drop in to the mobile testing unit to complete PrEP Express follow-up visits. Full PrEP follow-up visits (every six months) must be completed at Magnet.
Visits can range anywhere from 30 minutes to one hour, and wait times may vary. If you are experiencing symptoms, please visit Strut or the City Clinic. We are a non-meds carrying mobile clinic.
Learn more about our services:
Follow-us on Social Media