New programs in San Francisco are reaching into the community with the goal of testing, treating and curing the more than 12,000 people living with active hepatitis C (HCV) infection. Cropping up as mobile sites, alongside methadone treatment and in harm reduction centers, outreach workers and clinicians connected to the "End Hep C SF" initiative in San Francisco are providing HCV services to people experiencing homelessness. Public health experts sometimes describe these populations as "difficult to engage" or "hard to reach" but these sites demonstrate that public health can do better.
"If there are circumstances in your life that make it more difficult to get cured, it's incumbent on us to figure out what those interventions are to help you be successful and to implement them," said Katie Burk, MPH, from End Hep C SF and San Francisco Department of Public Health. "No one is 'difficult to engage' if you engage them on their terms." 
Once a difficult infection to cure, new medications have revolutionized hepatitis C treatment. Now, most people with acute HCV infection can be cured with a once-daily pill, taken for eight to 12 weeks. Compared to older interferon-based treatments, new medications cause few side effects and are easily-tolerated by most people.
In San Francisco, about 68% of infections are among people who inject drugs, with many experiencing homelessness, unstable housing and displacement.
"We realize these groups often have the most unmet need for services and support," said Burk. "We want to end stigma, and we want to invest in these populations. All people living with hepatitis C deserve access to the most effective treatment, and I think there are a number of really inspiring models for how we've managed to reach people."
Curing people who inject drugs
The Harm Reduction Center of San Francisco AIDS Foundation (SFAF) attracts people in the SoMa/Tenderloin neighborhood seeking injection and other safer drug use supplies, at the same time providing free hepatitis C testing, information and treatment. 
Co-locating hepatitis C services with syringe access services (a needle exchange) brings HCV services directly to people who are mostly likely to experience HCV infection. It is one of only a handful of sites in the U.S. that offer onsite hepatitis C treatment at a syringe access site. 
"The more people who inject that get cured of hepatitis C means that less people—with high transmission risk—will transmit hepatitis C," said Rob Hoffman, from SFAF.
Importantly, care providers at the syringe access site offer compassionate, empathetic medical and hepatitis C care to people who may still inject drugs—without judgment.
"The ability to interact with medical providers who accept you as a person and who do not make drug use the focus of your medical visit has such a great positive impact on people who use drugs," said Hoffman. "None of our participants want to have the stress of 'is this medical provider going to make me feel less than because I use drugs?' connected to their health care."
"Most people who inject drugs who access syringe service programs have had negative experiences with traditional health care providers, as a result of drug use stigma," said Ro Giuliano, from SFAF. "In our program, we're able to build trust with program participants, and provide hepatitis C treatment that works in their lives."   
"We never assume that because someone is struggling that they cannot take steps to better care for themselves," said Melissa "MC" Chavez, MSN, FNP, from SFAF.
Because many participants are homeless, SFAF provides daily drop-in services, food, one-on-one and group support and lockers where people can safely keep their medication.
"People who inject drugs and who may also be unhoused are more likely to access hepatitis C treatment if they are given a safe place to rest and connect with others including medical providers, said Kimby Muller, from SFAF. "With time, a level of trust is reached that makes the process of receiving treatment seem much more possible as participants see that genuine care and support is available to them." 
Addressing a "silent epidemic"
Although hepatitis C can cause liver disease, cancer and death, it is known as a "silent epidemic" for the sometimes vague, low-level symptoms that prevent people from knowing they're infected and feeling that treatment is urgent. For people experiencing homelessness, hepatitis C infection can sometimes be at the end of a long line of competing concerns.
"People who are living outdoors or don't have a regular place to stay—there's so much they have to do day-to-day just to survive," said Jessica Naugle, RN, with the Street Medicine Team of the San Francisco Department of Public Health. "A lot of our patients put things like treating hepatitis C off because they're dealing with other things like major abscesses."
With a dedicated team member focusing on addressing hepatitis C with clients, the Street Medicine Team is re-prioritizing treatment and cure. Naugle makes hepatitis C treatment accessible for the clients she sees at shelters and at other street-based locations, working with them to receive treatment at organizations such as Glide.
"It's a departure from how people think about healthcare, traditionally," she said. "But it's exciting because there's a cure. It's really gratifying to be able to say, 'You have hep C—but we can cure it.' It helps people have a tangible win."
DeLivering a cure
Aboard a converted shuttle bus, Jennifer Price, MD, PhD and colleagues from the University of California, San Francisco see patients in a variety of areas around San Francisco. The mobile liver health clinic, named "DeLIVER," meets people in places where they already are—making weekly stops at syringe access sites, methadone programs, at Lava Mae pop ups (mobile showers), navigation centers and community events like Sunday Streets.
On board, clients can receive HCV testing, lab draws, video appointments with clinicians, FibroScans (liver scans) and medication.
"We found that there was a high prevalence of HCV in the areas where we were testing, and that people were happy to go on the van to receive services. One thing that stands out is how much people really want to get treated," said Price.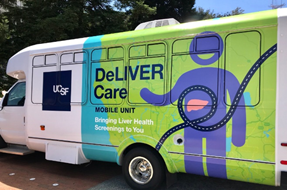 The team finds that most people who test positive have medical insurance and a primary care doctor but are not connected to hepatitis C care. Many clients do not have stable housing: About 50% of clients report living outdoors or in a vehicle in the previous 12 months, and that about a third of clients say they are currently experiencing homelessness.
"This van is a way to gain access to people who are unstably housed and who need treatment," said Price. "Our other option is to have people referred to us come into the clinic at Parnassus, and that's not feasible for many people. As long as the sites we go to are part of people's routines—such as places people go to get their methadone dosing—they're coming reliably and it makes it so much easier for them to access the hep C treatment."
Tell your story of hep C
Around the community, peer navigators are speaking out about their experience getting cured of hepatitis C to share the message that HCV treatment is fast, effective and easy.
With funding and support through End Hep C SF, three San Francisco organizations—Glide, St. James Infirmary and San Francisco AIDS Foundation—have established peer navigator programs that employ people with lived experience of hepatitis C. In March of 2018, the first group of 24 peer navigators received training.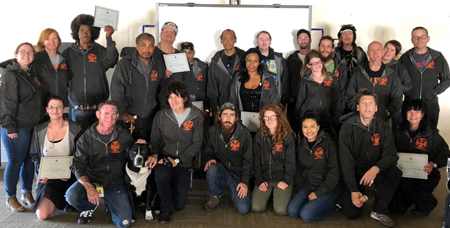 "We're trying to change the narrative and culture around HCV," said Burk. "So many people have lived with it for so long, just thinking, 'it's not bothering me right now.' We want people to think, 'I can just get this taken care of right now.'"
"There's a lack of information out there about the treatment among community members," said Sam Formo, the hepatitis C navigation coordinator for St. James Infirmary. "There's a rapport that forms between two people sharing information [about hepatitis C treatment], so it can be an effective way to get the word out. It's as simple as having conversations with people to let them know that it's possible to get treated, and it's free."