San Francisco seeks solutions to harms caused by meth
Leaders at the Stonewall Project are sharing their expertise in providing services to people who use meth on the San Francisco Methamphetamine Task Force.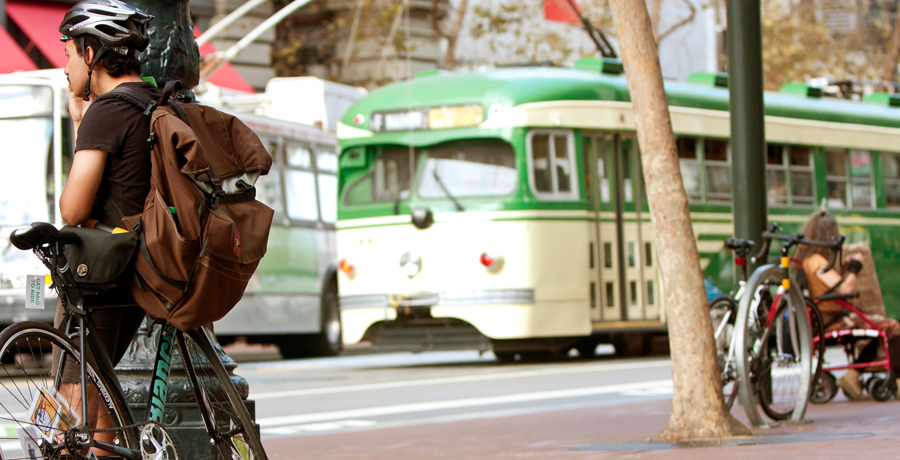 In recent years, San Francisco and the U.S. as a whole have seen rising rates of methamphetamine use. In California, about 25% of men who have sex with men (MSM) and 20% of trans women who use substances report meth use in the past year.  
"Meth is very readily available right now," said Jeremy Prillwitz, MA, LAADC-CA, a counselor for the Stonewall Project. "And the labs supplying meth are providing very high-strength meth across the country. I've heard many people who used to use crack or cocaine that have switched to meth—it's the same price or less than cocaine, and it's far more powerful."   
Following the increased availability and potency of this powerful, psychoactive drug, San Francisco has seen increased rates of overdose, mortality, emergency department visits and hospitalizations caused by meth. In San Francisco, deaths caused by meth have increased from 1.8 per 100,000 in 2008 to 11.5 in 2017. Nearly half (47%) of people who use psychiatric emergency services are under the influence of the drug.
To address these alarming trends, San Francisco Mayor London Breed and District 8 Supervisor Rafael Mandelman convened a Methamphetamine Task Force in April 2019, to better understand meth use in San Francisco and devise ways to reduce the harms caused by the drug.
San Francisco AIDS Foundation leaders, bringing expertise in meth use counseling and treatment, are stepping up to provide guidance on the Task Force.
"The Stonewall Project began 20 years ago as a methamphetamine treatment program," said Mike Discepola, MA, senior director of behavioral health services and the Stonewall Project. "For many years we've worked with people who use meth, and we have expertise in providing accessible services to people who may use a lot of drugs, may not be ready for traditional drug treatment programs or who may be described as 'challenging' to work with."
There are no currently-available medication assisted treatments approved by the FDA to treat meth addiction (unlike for people using heroin or opioids, who may take methadone or Suboxone to quit). Aside from the Stonewall Project, a program at SFAF, the only drug treatment programs available in San Francisco are abstinence-only programs. Although they may be described as harm reduction programs, they do not allow participants to have substance use goals outside of full abstinence. There are no treatment options available for participants interested in substance use management or targeted abstinence, said Discepola.    
"If you go into one of these drug treatment programs, but aren't able to completely abstain from drug use, then you're never meeting your goals," said Discepola. 
"People end up just dropping or failing out of these programs. At Stonewall, we're interested in helping people 'where they are.' Maybe a person decides to continue using drugs. We're able to ask questions like, 'How much are you loading in your rig?' We're having conversations that help keep people out of the ER even if they're still using," he said.  
Contingency management programs are one type of program proven to help people using meth meet their goals, and something the Task Force has shown interest in exploring.  
At SFAF, the harm reduction contingency management program PROP provides people who use meth with financial incentives when they test negative on urine drug screens. Preliminary data from PROP reveal that after a 12-week cycle, 63% of participants had stopped using stimulants and 19% had reduced their use (as documented by toxicology screens).
The reward-based positive reinforcement strategy used by PROP is a powerful way to help people make different decisions about substance use, said Prillwitz.
"People who use chaotically tend to have a very short 'window' into the future," he said. "They have a hard time playing the tape forward—they're just thinking about what they want or need right now. Contingency management helps people think about the longer-term ramifications of their choices."
Although the program provides incentives to people who test negative, it's not an abstinence-based program, said Rick Andrews, PROP program manager.
"Some people in the program are currently using or are reducing their use," said Andrews. "We provide peer support, information and counseling. And, as we assist participants in setting goals, we support any goals that people have around their use—which may or may not include complete abstinence. We have a lot of demand for our program—there's no shortage of people who want to work on their use.
The nature of PROP—and many of the substance use services provided by the foundation—is essential, said Jen Hecht, MPH, senior director of program strategy and evaluation. "Services are designed to engage people who might not be ready for treatment in a formal or traditional way. There are drop-in groups and drop-in counseling, an educational website for people who use meth, one-on-one counseling, and other services that never judge or stigmatize people for their substance use."
PROP is currently available through the Stonewall Project for gay, bi and trans men, and trans women. In the next few months, staff will expand the program at the SoMa/Tenderloin-based Harm Reduction Center for heterosexual people interested in addressing their meth use.
"About 40% of people we see at the Harm Reduction Center use meth," said Discepola. "Meth use has been going up over the last 10 years, and it's tied to many issues but especially homelessness. It's encouraging that different departments are coming together to address this issue, but we'll need funding to implement programs that work. At a certain point, we can't afford not to." 
—
Are you interested in changing your relationship to meth? Find out more about the harm reduction program PROP at SFAF. Join us for community, peer support, and a welcoming space to address your use. 
Tweaker.org is a judgment-free place for information, support and resources for people who use meth. You'll find information written by people who use or have used meth, so that you can better understand how it affects your physical, mental, sexual health and wellbeing. The website contains graphic and frank content about sex and drug use.