"Grand Marsha": Pride profile on Mellanique "Black" Robicheaux
A DJ for more than 30 years, Robicheaux is using her platform during Pride to call attention to the needs of the Black Queer community and the importance of music in Black liberation.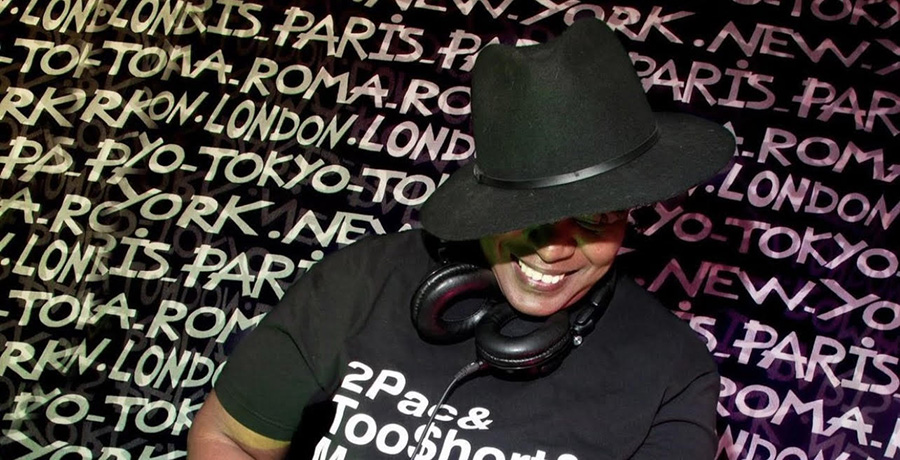 This article features one of San Francisco 2022 Pride's Grand Marshals, Mellanique "Black" Robicheaux, who shares how her passion as a DJ is connected to Black liberation and community-building. 
Each Pride, San Francisco Grand Marshals are chosen to represent both individuals and organizations from various walks of life who have each made significant contributions to the lesbian, gay, bisexual, transgender community. 
Mellanique "Black" Robicheaux, who accepted the honor, as Black, queer woman, has always been concerned about the liberation of Black and Brown people. "Grand Marshal" carries too much of the connotation of policing, and fails to acknowledge what's most important about Pride, Black says.
That's why she prefers the title–"Grand Marsha." 
"Grand Marsha" achieves two goals. First, it shifts the conversation away from "Marshal," which could remind individuals of the harmful ways institutions such as law enforcement and military operations have upheld white supremacy and disproportionately affected the LGBTQ community. Second, "Grand Marsha" honors one of Pride's founders, Marsha P. Johnson. 
Mellanique's ability to reframe narrative and assert her identity isn't new. The importance of names–where they come from, what they mean, and what they remind us of–has always been important to Melanique. That's also why she nicknamed herself "Black." She noticed how uncomfortable many non-Black people were with saying the word. To say the word "Black," though, is to also honor her humanity, so she wanted people to say the word as much as possible. Yes, she's a community activity. Yes, she's a DJ. Yes, she's a queer, woman. And most importantly, all of those identities are filtered through the lens of her Blackness. 
Black moved to the Bay Area in 1991, with the dream to become a DJ. In fact, she began collecting records as a young girl. What she hadn't welcomed was the racism and sexism she faced as she broke barriers to enter this male-dominated, exclusive industry. In fact, she has disappointing memories of how often white–both queer and straight–spaces would ask her to change the music she played. They preferred to listen to artists that sung lyrics and about experiences that made them feel most comfortable. When she encountered pushback, she began exploring how to start her own clubs. 
Black produced great Bay Area's parties like Tight, Rise, Dream EZ, Hella Gay, and Ships in the Night–some of which are still going on today! All the while, she honed her DJ craft and began playing alongside other DJs including MAW, Fuse, Digit, J Boogie, Rusty Lazer, and Trackademicks. Eventually, she opened for artists including Medusa, Erykah Badu, Meshell Ndegeocello, and Alanis Morissette. She's taught fifteen DJs how to spin and mentored countless others. Black has DJed at hundreds of benefits and continues to spin with the same joy that she did when she touched her first records as a young girl. 
To get to where she is today as an admired community gatherer, Black acknowledges that she's her ancestor's wildest dream. Remember, that's also why she nicknamed herself "Black"–to honor them. But that's also why she prefers "Grand Marsha" over "Grand Marshal." "Marsha" as in Marsha P. Johnson, was a Black, transgender woman, who challenged society's gender and sexuality norms as early as the 1950s. Back then, dancing with a person of the same sex as well as cross-dressing were illegal. 
Marsha P. Johnson was propelled into the forefront of the queer community, when one day at Stonewall Inn in the early hours of June 28, 1969, police officers raided the gay bar. Marsha stood up to lead the charge and fight back as the officers attempted to arrest people for violating various discriminatory laws. 
Stonewall remains one of the prominent examples of the clash between queer community and law enforcement. According to a survey by Lambda Legal, "People of color, low-income people, and people living with HIV reported harassment and assault by police more frequently than survey respondents as a whole." So, when San Francisco's Pride joined what other Pride organizations in cities like New York and Indianapolis are doing by banning police officers from marching in their uniforms, the decision made sense to Black. 
San Francisco Police Officers' Pride Alliance contested Pride's police uniform ban, and Mayor Breed eventually declined to participate in Pride because of the controversial decision. (Mayor Breed and the police have since reached an agreement to march in the Pride parade.) Black acknowledges this backlash, but contends that wearing the uniform is a choice; being the victim of police violence because of one's queer identity and being triggered by those memories is not a choice. 
Black also acknowledges that the police officers are still allowed to march, just not with any apparatuses of violence. She supports the Pride organization's efforts to create safe spaces for all LGBTQ* people–after all "that's who Pride is for." 
As a DJ, she wants to create safe spaces for Black, queer people. Through music, people can connect with each other, build community, and refuel for Black liberation. This is her 30th year DJing and she's not done. "The fact that we're still having basic conversations about how policing can be harmful also is a reminder that I'm not done."