Finding answers for trans hormone health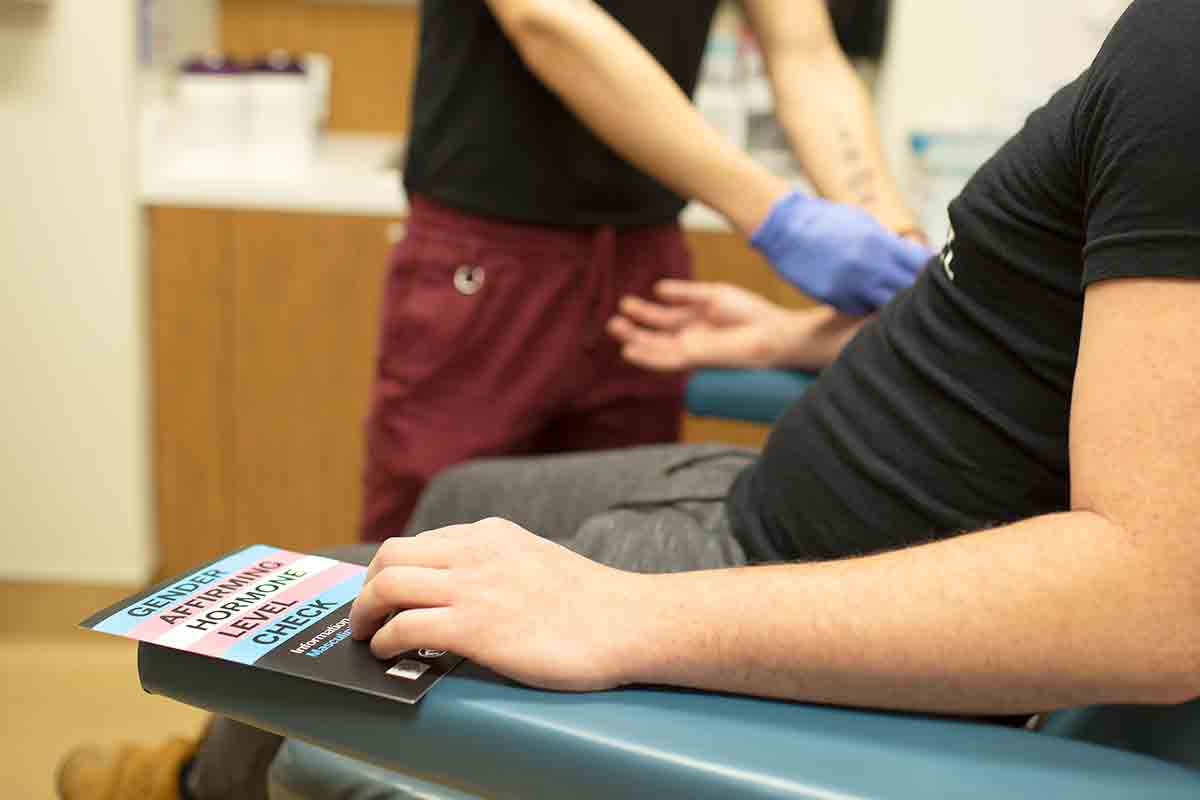 Janessa Broussard, NP, spends time every week taking phone calls from trans people on hormones who have questions, concerns and a variety of unmet needs related to their sexual health and gender affirming care. For Broussard, the follow-up calls are a natural extension of the hormone level check service she started at San Francisco AIDS Foundation in December 2018, which has now served 23 people.
"We go over the results of their hormone level checks, to talk about if the levels of hormones they are taking are achieving the results they want and are safe. And that's when the floodgates open and the questions come."
Clients share their stories and the situations they're in. They talk about what's working or not working with their hormones, and they voice fears about hormone use. It's up to Broussard to track down answers and offer realistic advice.
Broussard says that clients ask about things like the long-term health effects of hormones, how hormones change reproductive health, and if they're at risk for pregnancy if they're taking testosterone.
Broussard's advice to trans men having sex with cis men or trans women is to use some form of contraception, such as Depo-Provera or Nexplanon, when initiating hormones. Changes in cycle are expected with testosterone use but individuals can experience some anxiety early on, wondering if this change is part of transition or an indication of pregnancy. For some, contraception may be needed beyond this period of time when hormones are first initiated.
A lot of times, clients ask when they can expect to see and feel changes from their hormones, and if it's safe for them to increase their hormone doses. A lot of times, hormone level checks reveal that clients are taking doses far lower than effective levels. Broussard attributes this to a kind of "gatekeeping" by medical providers who aren't well-versed in hormone therapies for trans people.
"The provider can justify their care because they did provide hormones to their client. But they're prescribing very, very low doses, so they're not really giving individualized care or customizing the hormone therapy to really meet the needs of their clients. I end up hearing from clients who are second guessing themselves and wondering, 'Is it just me? I'm expecting certain changes and they aren't happening and I don't feel differently."
Broussard is oftentimes able to reassure people that they can safely increase the amount of hormones that they're taking based on the results of the blood test from the clinic. Part of the problem is that hormone care for trans people isn't established or "owned" by one specialty in medicine.
"There's conflict about where hormone prescribing 'resides,'" said Broussard. "And insurance companies can be very limiting in terms of who patients can see. A lot of time HIV care providers prescribe hormones, because they want to be able to take care of as much as we can in our clinics with clients who may be especially vulnerable. But people should be able to access hormones wherever they choose to or feel comfortable."
For Broussard and the sexual health team, opening hormone level check services and support to the trans community not only improves the health and safety of people taking hormones, it also opens the door to trans people who may benefit from other health and community services offered at the same site.
"We want to be a place where people come in for their HIV prevention needs, for STI testing and treatment and for other needs. If providing hormone services gets you through the door, and that's your priority, we can address that and also ask you about HIV, prevention or other sexual health needs you might have."
—
San Francisco AIDS Foundation provides a variety of services specifically created for trans people including those who are gender non-binary, genderqueer, gender non-conforming and gender expansive.
Hormone level checks are available:
Magnet at Strut, 470 Castro St., San Francisco
Mon. & Sat., 10 am – 6 pm
Tues., Weds. & Thurs., 10 am – 8 pm
Fri., 10 am – 1 pm, 3 pm – 6 pm
SFAF main office, 1035 Market St., Suite 400, San Francisco
Tues., Wed. & Thurs., 3 pm – 5:30 pm
Harm Reduction Center
(available for people who inject drugs)
117 6th St., San Francisco
Tues. – Fri., 11 am – 1 pm
Mobile testing unit
Various San Francisco neighborhoods
Call 415-487-8037 for availability