Cheers, Queers! Get a better buzz in the New Year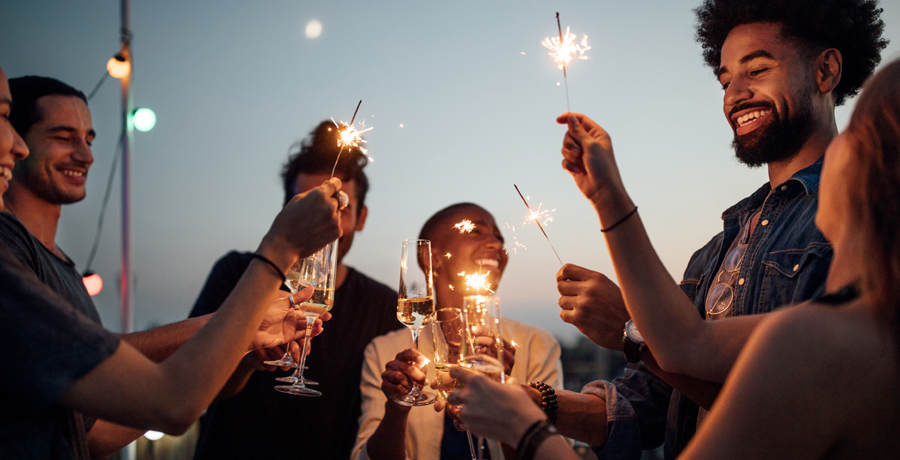 (Photo: iStock.com/alvarez)
With the start of a new year, many people think about changes and resolutions they might make to improve their lives. Substance use—and alcohol use—may be included. At San Francisco AIDS Foundation, counselors with The Stonewall Project are here to help people explore the way they drink and make changes if desired. 
"Many parts of queer culture revolve around the dance floor and drinking," said Aaron Martin, MS, AMFT, a substance use counselor with The Stonewall Project. "Some of us are used to partying at night and then waking up for mimosas the next morning. Others acknowledge getting to a point where they see their alcohol use impact their life in various unintended ways, and are interested in trying something new."  
Martin, along with other colleagues at The Stonewall Project, is a counselor for a short, solution-focused program that provides support to gay, bi and trans men interested in evaluating their relationship to alcohol. The program, called Cheers Queers, is comprised of three free one-on-one counseling sessions. There is no expectation that people who seek support must make changes to their drinking, and people with all types of goals are supported.  
"We are acknowledging that our community does drink and is likely to continue to do so," said Rich Lugo, EDD, LAADC, manager of alcohol services who is also a counselor for Cheers Queers. "We are interested in supporting those that have had negative experiences by providing strategies to prevent harm that can come from drinking."
Sometimes, counselors talk with people not only about solutions to cut down or stop drinking, but also about the reasons why people drink, and the specific instances when it becomes problematic.
"Helping to identify assumptions or beliefs around alcohol—and then to really analyze them—can make it easier for people who are ready to make changes," said Martin.
One participant, who worked in the entertainment industry, wanted to cut down on his drinking but worried that it would make him less appealing as a performer.
"He worried that he wouldn't be seen as this fun, over-the-top persona if he wasn't drinking," said Martin. "The assumption was, 'If I don't drink, I'm no fun,' which really didn't hold up under closer scrutiny. These kinds of messages get embedded in our beliefs over the years, and it can be helpful to look at things like this in a new light."
Thinking about your alcohol use in the New Year?
There are many ways that people reduce the harm that can come from alcohol use. Below, Martin and Lugo give some creative tips that people have shared. Importantly, they say that counselors don't have all the answers. It's important for people to come up with their own ideas for what might work for them.
Go out on a full stomach, and bring snacks with you to bar. Drinking on a full stomach will slow down how quickly alcohol gets absorbed.
Bring cash, not cards. Bringing a set amount of cash with you means you can decide how much money you want to spend and how much you want to drink ahead of time.  
Add extra ice to your cocktails if you're drinking at home, or ask for extra ice at the bar. This will help dilute your drinks so you don't consume as much alcohol.
Alternate your drinks with water. Staying hydrated helps prevent hangovers.
Switch to light beer. Martin said he's heard that some people will start with one or two hard liquor drinks so they can feel buzzed, but then switch to light beer for the rest of the night.
Re-think day drinking. Some people don't have any problems partying on a Friday or Saturday night. But they might feel bad when they wake up and immediately start drinking. Martin says that some folks opt to skip the day drinking, but still go out one or two nights during a weekend.
Take care of yourself. Drinking doesn't have to be the only way to reduce your stress levels. Sometimes doing simple things for yourself—like cleaning your desk off at work, cleaning your bathroom or checking how you're breathing—can help reduce how much stress you feel.
Think through how your alcohol use impacts use of other substances. Sometimes, alcohol isn't a problem—directly. Martin said that some participants feel OK with their drinking, but realize that when they're eight drinks deep, they are much more likely to accept that bump of coke or to use meth. Thinking through those types of situations can help you be prepared for when they happen. Connect with The Stonewall Project if you're interested in exploring your relationship with alcohol and other substances.
Sign up for the free, three-session Cheers Queers program 
Talk one-on-one with a counselor about alcohol use. There is no requirement to change, and abstinence or sobriety does not have to be your goal.
Find out more: https://www.sfaf.org/programs/stonewall-project/cheers-queers/