Centering Black Employees through Race Equity
Melanie Graham, Chief Talent and Culture Officer, shares her background and her plan to make race equity systemic at SFAF.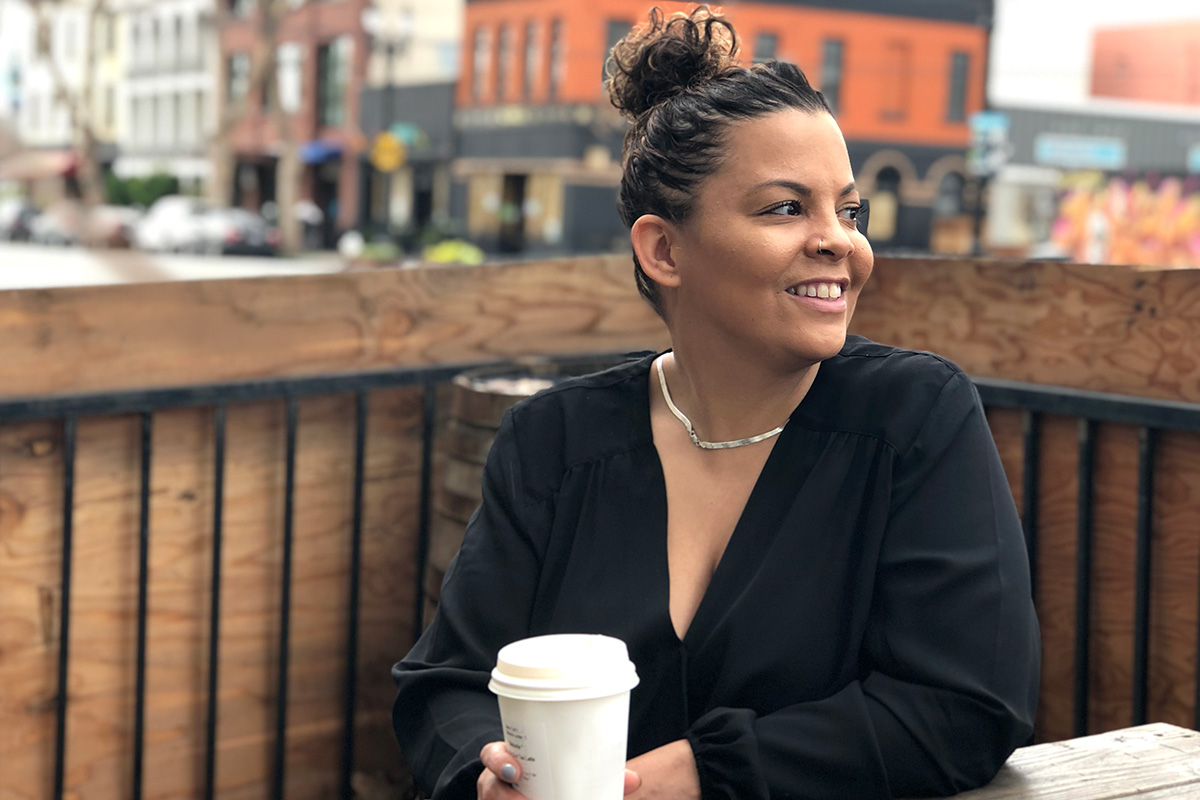 At SFAF we are committed to racial equity and justice within our organization, and outside of our walls. Melanie Graham, Chief Talent and Culture Officer, joined SFAF to build a more inclusive and equitable organization. Her goal is to ensure employees who identify as Black, Indigenous and people of color (BIPOC) have access to promotions, pay equity and self-care. 
Graham shared her plan to uplift and center Black and POC employees within the larger context of our strategic plan. 
SFAF: Tell us about your background. 
MG: I was born and raised in Seattle, but eventually left for D.C. At that time there was nothing better than D.C. for Black folks. I went to the University of Maryland and I was the first person in my family to go to college, [and] really the first person in my family to graduate high school.
I decided to work in HIV because I needed to be around other people that had a similar life experience to me. Most of my friends and peers in college were very wealthy and second- or third-generation college students. And so, at 21, I started volunteering with different HIV organizations. 
Although we didn't share the same HIV status, we shared the same social determinants of health, we were survivors of abuse, survivors of parents addicted to heroin, and survived withdrawal at birth. We came from lower socioeconomic status, dealt with systemic racism, and we didn't always fit in. Being around the HIV community served as my family when I was so far away from home and it still does. It's the one community I feel the most understood.
SFAF: When you were at the University of Maryland, what was the focus of your academic studies?
MG: I am proud to say that I majored in Afro-American studies and I did that when it was not trendy. I knew exactly what I wanted to study before I got there. I wrote a lot about HIV's impact on the Black community. 
Being mixed race and Black identified, (my mom is white and my dad is Black), I primarily focused on writing about Black identity, Black beauty standards, colorism and intersectionality. I appreciated that department and I'm super proud that I was never talked out of majoring in that.
SFAF: Then you went on to get a Master of Social Work. Tell me about that decision.
MG: At the time I was working at Children's Hospital in Washington, D.C. My job there was to work with newly diagnosed adolescents between the ages of 13 and 25. I was around amazing social workers and physicians that believed in me and they're like, 'you need to [be a social worker].' And so, I did it and I ended up going to the University of Maryland Baltimore for graduate school where I got my Master of Social Work, clinical focus with a mental health specialization.
SFAF: When you think about inclusionary practices, what are some of the ways that we can overcome the technical barriers to be more inclusive in our day-to-day work?
MG: I think it's listening to what people need. At SFAF people are pretty vocal about what they need. It's a matter of leadership listening and allowing for people's needs to actually be met. 
In addition to listening and being responsive to staff needs, it's really important to remove invisible barriers from BIPOC before we have to even say anything. When I speak about inclusion I describe it as leadership and white folks doing whatever they have to do to empower BIPOC to become successful. It's not this whole 'what can you do for me,' it's more like, 'what can I and SFAF do for you, to retain you, value you and ensure your success,' that's inclusion.   It's more than BIPOC being included at the table, it's BIPOC being included at the table with a mic. Diversity is nothing without inclusionary practices and instilling this in SFAF staff will be a continuum and culture shift.
SFAF: What led you to SFAF? What were you doing directly before you came and what excited you the most about the role?
MG: A colleague of mine told me about the position and in all honesty, I was confused. SFAF doesn't scream, 'hey, Black woman come lead here.' So, I was not really sure about the position and the goals. 
It wasn't until I was able to build a relationship with Joe and really understand his vision. And to be honest, I still questioned it even after I agreed. It wasn't until a couple of Black staff reached out to me and really supported me in whatever decision I would make. And that's when I knew that I needed to be here. I realized then, this decision was much larger than me, it affects other BIPOC.
SFAF: What are you most excited about in your current role at SFAF? 
MG: Creating change, shifting culture through inclusion practices particularly from white staff. Seeing BIPOC in leadership, mentoring, empowering the next Black woman to come running towards SFAF because this is a place she knows she can thrive. These are the things that get me really excited. I can be in a position to clear a path that's been historically blocked towards BIPOC. I can disrupt and dismantle historic structures that have marginalized BIPOC within SFAF historically. That's what truly excites me about the role. I recognize there is nothing easy about this role but if I can just make a dent in a 35-year-old organization that was once set in its ways, I can sleep knowing more is possible.
SFAF: How does your work at SFAF address institutional and structural racism? What are you and the team working on to address racial equity?
MG: Retaining the BIPOC staff by ensuring pay equity, equitable access to promotions, professional development opportunities and prioritizing self-care, by way of a generous PTO. This is just to name a few activities. The real work is dismantling racist policies and practices, the written and unwritten. My goal is to make equity systemic, something very hard to undo.
I think self-care, particularly as it relates to BIPOC staff, is incredibly important to be prioritized. 
Especially in the last year and everything that's gone on. Black people are being terrorized and traumatized and we can't just leave that at home and go to work as if we aren't being killed and tormented, there's no shelving that. The institutional racism that happens at work is just a microcosm of what is happening to us on the street and in some cases in the privacy of our homes by white people.
In addition, diversifying the organization on all levels from the board all the way down. [Making sure] there's a concentrated effort in the way we recruit and hire, and that the process is done with an equity lens. My plan includes teaching white employees to recognize their own biases, history, and hold each other accountable, showing white employees how their power and privilege shows up and impacts BIPOC staff and clients.
And then implementing a five-year race equity plan holds us accountable for everything that I've talked about. It's kind of like a strategic plan, but it's solely focused on race equity, but it's something that holds leadership and the organization accountable to ensure that we're able to actually do this.
SFAF: In what ways do you believe SFAF can improve in its approach to confronting systemic racism?
MG: There's a lot of internal work to be done in order to earn the trust of the larger community of color. Essentially it's operationalizing a race equity plan. Specifically, it's how we diversify the organization. Diversity needs to be seen from the top and not just Black and Brown placeholders or vanity roles, but individuals who passionately push the agenda of SFAF authentically becoming, looking and acting anti-racist. 
Having diversity means nothing if there is no inclusion. We need to foster an environment where Black folks in particular can be retained. Most importantly, It's also understanding that BIPOC need to be decision-makers and lead with autonomy. If this doesn't happen, I am afraid we will fall short on our race equity goals.
SFAF: When you think about the organization and what it means to be equitable, where are the gaps? What do people think and what should they be thinking?
MG: I believe it starts with what the organization looks like. A lot of white folks work here and this does not necessarily look like equity is taking place. So I feel like understanding that this organization has to have Black folks and people of color in leadership positions. That's imperative.
SFAF: You mentioned our organization being historically white and white-led. I think the dominant narrative in the HIV movement is that it has been white-led or white-focused. Why is SFAF taking action now and not 10, 20, 30 years ago? Can the Black community trust that this is going to be a lasting change?
MG: I think you'd have to ask the white leadership over the past several years why it wasn't a priority back then as it is now, it's very clear that Black people were dying just as rapidly as gay white men were. 
I choose to focus on what I can do to make a lasting impact at this organization as it relates to race equity. As far as gaining the trust of the larger Black community outside of the organization that's going to take time. I think there needs to be a lot of focus internally before extensive trust from the Black community is had, rightfully so. Being a Black woman, I get it. It's nothing to be rushed and SFAF should be questioned every step of the way.
SFAF: That's awesome. What do you enjoy most about working at SFAF?
MG: The possibilities that can come with this work that we're doing. I'm excited! I wouldn't be here if I didn't think it could happen. I think there is true potential to get this work done. I truly believe this can happen.