State allocates $61 million in funding for overdose prevention and harm reduction; $10 million for hepatitis C services
SFAF thanks Governor Gavin Newsom and the State Legislature for expanding the California Harm Reduction Initiative (CHRI), and funding hepatitis C strategies that support the most vulnerable Californians.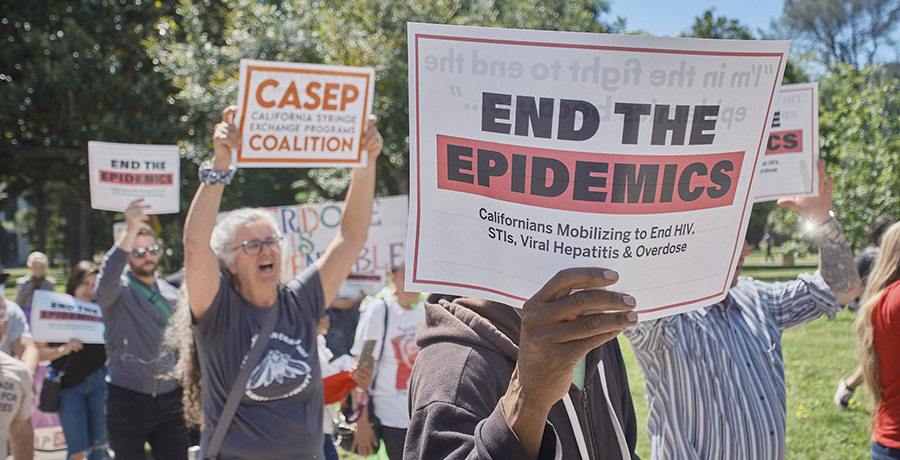 Contact: Media@sfaf.org
SAN FRANCISCO, July 10, 2023–San Francisco AIDS Foundation is glad to announce the state's significant investment in harm reduction and overdose prevention, and addressing disparities in access to  hepatitis C (HCV) care and treatment in the fiscal year 2023 – 2024 budget, signed this week by Governor Gavin Newsom. One-time funding of $61 million will be allocated to the general fund over four years to sustain and expand the California Harm Reduction Initiative (CHRI), which funds staff and resource costs such as fentanyl test strips, naloxone delivery, drug treatment provision and navigation, and overdose response training. And, $10 million in one-time funding will be allocated to reducing inequities in HCV cure access. 
"We extend our thanks to the Governor for securing significant funding to address two priority health issues for California–HCV and overdose," said Tyler TerMeer, PhD, CEO of San Francisco AIDS Foundation. "These investments will help to ensure that our state will be able to make progress in reducing overdose deaths and ensuring that all people living with HCV have access to lifesaving cure treatments."   
"The new CHRI funding triples California's investment in harm reduction, which is much-needed in a state that sees more than 10,000 fatal overdoses every year," said Laura Thomas, MPH, MPP, senior director of HIV & harm reduction policy at SFAF. "This funding will directly benefit organizations that directly serve populations of people who use drugs, and who have the greatest impact distributing resources such as the overdose reversal medication naloxone. We thank Senator Scott Wiener and Assemblymember Chris Holden for their steadfast leadership on this issue."
At San Francisco AIDS Foundation, CHRI funding has supported a harm reduction group for transgender and non-binary community members, named Transgender Harm Reduction Education and Drug Use Services (THREADS). This six-month program trains participants to bring harm reduction and overdose prevention resources and information out to the community, opening up access to transgender people who may experience barriers visiting harm reduction or syringe access sites. 
First funded by the Budget Act of 2019 with $12.6 million in funding, CHRI funded 37 community-based naloxone distribution and drug user health services programs through June 2023. Evaluations of CHRI programs found that 54% of participants served by the program had used naloxone to reverse an overdose in the previous six months, and that 95% had received naloxone from a CHRI-funded program. Additionally, CHRI-funded harm reduction programs were far more likely to offer on-site medication for opioid use disorder (85%) compared to non-CHRI funded harm reduction programs (31%). 
Also included in the state budget is $10 million to bolster HCV treatment and care services including outreach, testing, linkage and engagement in care for underserved Californians.
"This relatively small investment will go a long way to addressing some of the startling disparities that exist in access to HCV care and the cure," said Anne Donnelly. "This funding prioritized those most impacted by HCV and facing the most significant barriers to the traditional health care system, young people who use drugs, people experiencing homelessness, and Black, Indigenous, and people of color. At least half the funding will support community-based services in priority settings such as syringe exchange sites, mobile health vans, and county jails. HCV is a deadly infection that can be cured with a very effective, accessible 8 to 12 week medication regimen, so it is a public health priority to ensure that the most vulnerable among us have access to these treatments. We thank the LGBTQ+ Caucus, Senators Laird, Wiener and Rubio and Assemblymember Ward for their leadership on this issue." 
End the Epidemics, a coalition of community-based organizations advocating for anti-racist policies and funding to end the syndemics of HIV, STIs, viral hepatitis, and overdose in California championed both funding requests this year, mobilizing activists at the Day of Action in Sacramento. The CRHI budget request was additionally supported by the California Syringe Exchange Programs Coalition (CASEP), and the National Harm Reduction Coalition; the HCV equity funding request was supported by the California Hepatitis Alliance (CalHEP). 
# # #