From Body Dysphoria to Gender Euphoria
The power of tattoos to heal and empower Queer and Trans BIPOC communities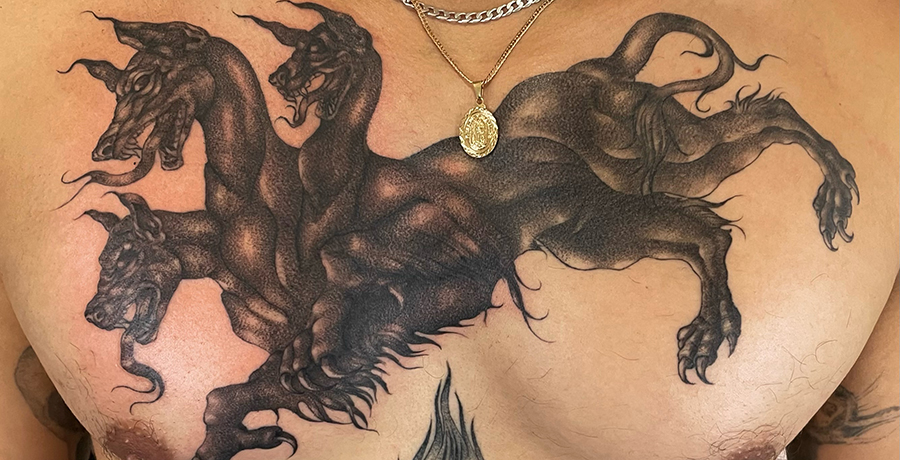 [Leer enspañol / Read in Spanish]
Tattooing is a body modification practice as ancient as our first forms of collective social life. The beautiful and endless arrays of gender and embodiment are equally so. And while we might have a sense of the historical significance of tattooing within cultural, countercultural, and spiritual contexts, it might not be immediately obvious how this ancient art of bodily adornment overlaps with gender-expansive and affirming practices. While not commonly considered a form of gender affirmation within the realm of gender-affirming medical care available to trans and nonbinary individuals, tattooing affirms us differently by allowing us material and creative agency over our skin. In what follows, I showcase the voices of talented practitioners and empowered clients who've adorned their bodies in order to give an account of tattooing as a gender-affirming art.
As queer, trans, and nonbinary individuals, our relationship to bodily agency is complicated: at a concrete level, our skin is at the mercy of legislation and policy surrounding a medical and social system set out to determine what is and isn't appropriate for an individual to decide. And in day to day life, we are often confronted by others––from friends and family to lovers and  strangers we interact with––who impose their projections about our embodied expression on us, what we do not "read" as. Language, law, and expectation crowd into the flesh like insidious intrusions that attempt to convince us that we possess no autonomy.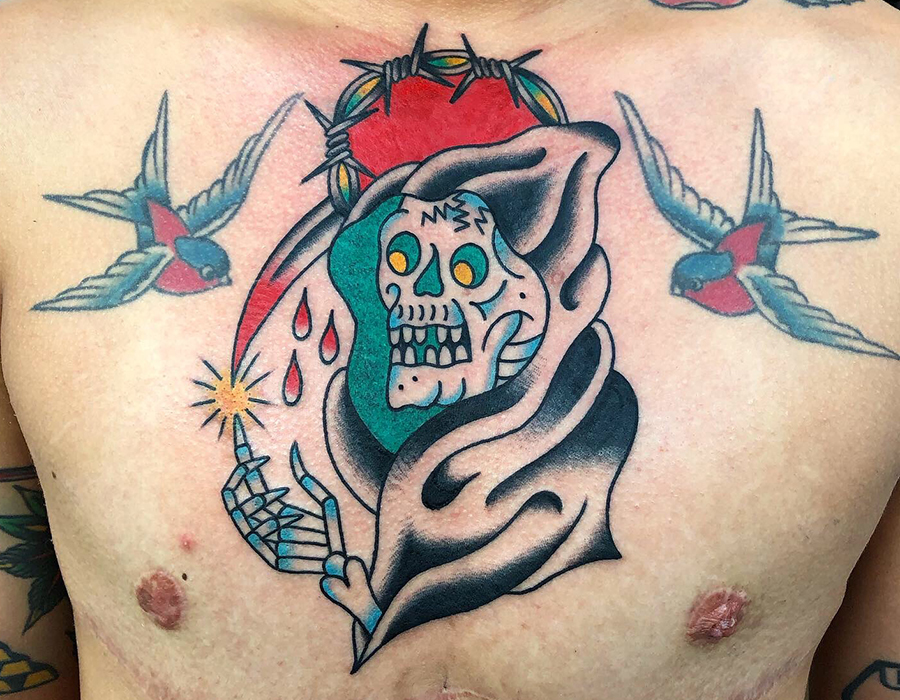 It is this very same flesh that serves as the stage, a battleground, even, with which to fight back. Though tattooing is undoubtedly an individual act and decision, it is no less meaningful as a form of reclamation and resignification in a communal way: its ritual aspect reconnects us powerfully to our senses and our skin. While sitting for a tattoo, we enter a meditative state we must breathe through with strength. We choose deliberately to undergo this threshold of pain and discomfort knowing that we are bringing our vision into fruition. This gesture in itself already affirms us, grounding us to our capacity for creative agency, reminding us of our strength and grace even through challenging experiences.
In its visual aspect, a tattoo confronts social expectations and scripts by insisting on being seen. It is in this way a powerful form of communication, a language with which to make ourselves known in a social context that refuses to see us. Symbolically, it counters whatever projections our social systems might want to impose. We demand to be seen as vessels of creative energy, and this is no small revolutionary feat.
When I asked my dear friend J Cagandahan, who identifies as a Filipinx non-binary femme, about this particular aspect of tattooing, she elaborated on her beautiful back adornment, a mace with heart-shaped spiked chain links, stating that "it's cute hearts, soft and sweet at a first glance. But they're sharp, deadly, and powerful." J went on to recount how her tattoo redefined the terms and boundaries of her particular embodiment of femmeness: "I'm proud to say I've become someone that honors the exploration and expansion of what it means to be non-binary and high fem. It's usually associated with words like 'soft,' 'fragile,' and 'submissive.' And that can be true. But I want to make room for myself and other folks that can also be hard, assertive, and powerful. Those things do not make us any less fem or fluid. I got myself a little reminder to symbolize and affirm that fem power, and as it healed so did my energy."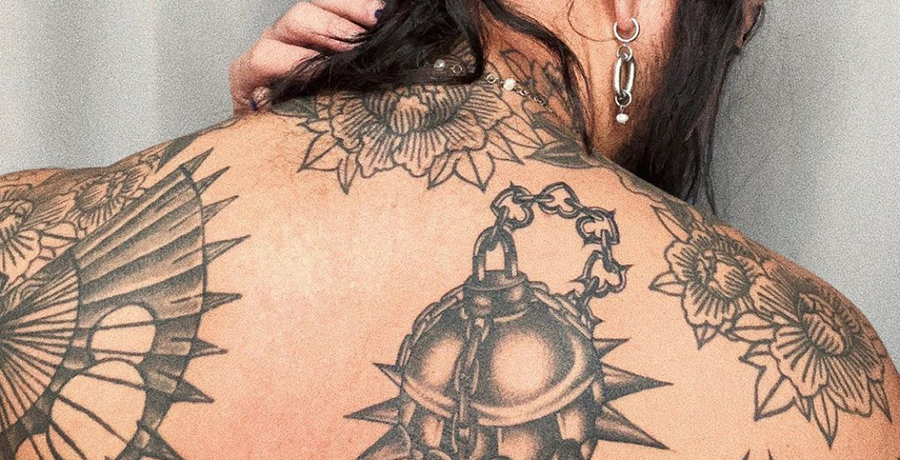 Tattooing surpasses the merely symbolic. It is without a doubt a powerfully lived thing. I also had the absolute pleasure of interviewing Ace Vicenzo Sibila, a tattoo artist and member of the wonderful crew at Tres Leches in Oakland, a QTBIPOC-run and centered private studio where I myself have enjoyed affirming and euphoric tattooing experiences. Though I haven't been tattooed by Ace (yet!), I've had the pleasure of witnessing the care, attention, and patience he offers to every client he interacts with. When I posed the question of tattooing as a gender-affirming practice, Ace immediately confirmed that "tattooing people… especially when they're QTBIPOC, can be a completely gender-euphoric and body-euphoric experience."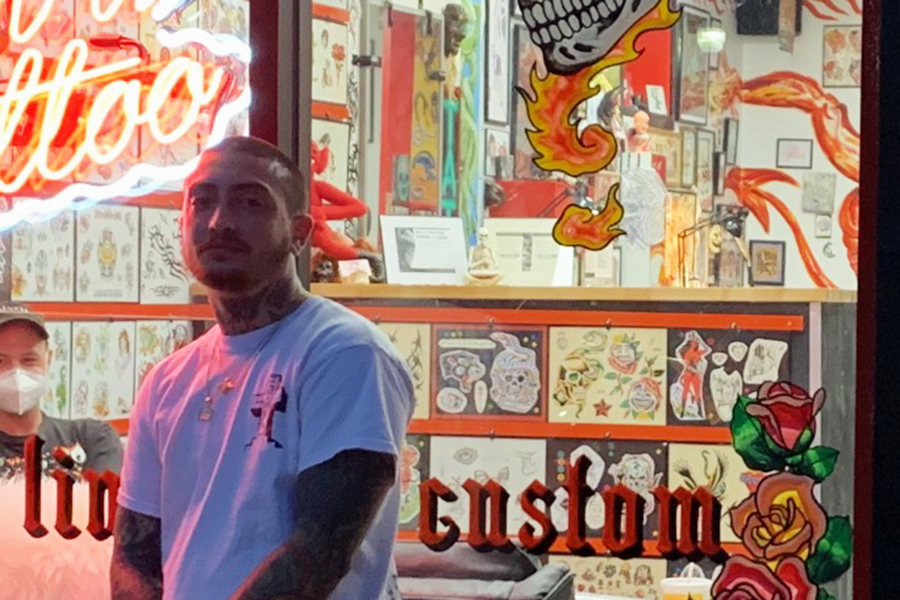 He also generously shared from his own gender journey: "I know before I came out as transgender, I was totally uncomfortable in my skin. When I started getting tattooed, I did it because I loved the way the art looked on my body and in turn it made me love my body again. Instead of people perceiving me as a man or woman or any gender, a lot of people just saw my tattoos. For me, that was a really cool experience especially for a trans person who had body dysphoria. When I tattoo my clients, especially my trans clients, I can feel the joy they get from decorating their body and taking back ownership in a place they never felt at home in. I think that is my favorite part of my job— making people feel good about themselves and their bodies."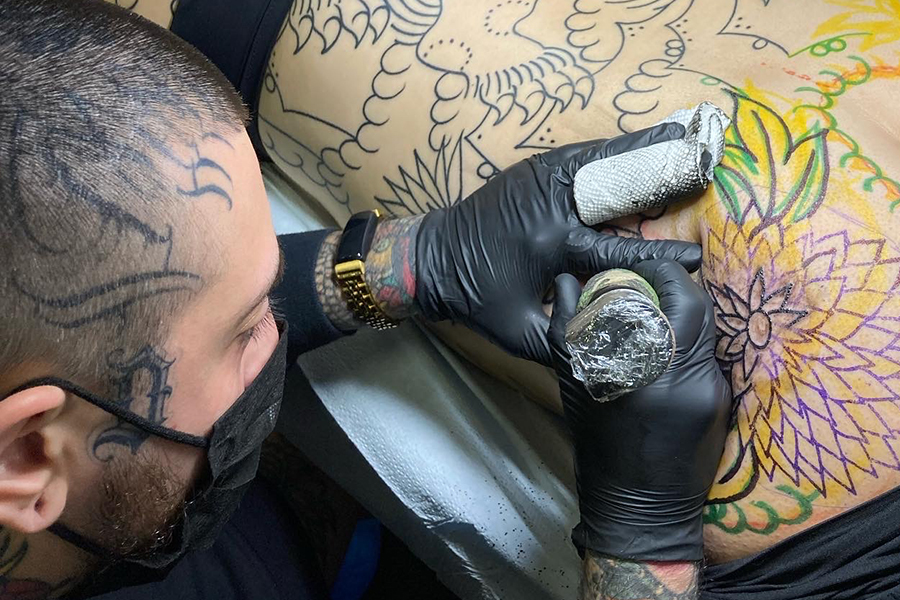 Tres Leches Studio is a haven for queer tattooing like none other. Its impressive roster of resident and visiting artists, most of whom are QTBIPOC themselves, are dedicated to facilitating the affirming ritual that tattooing can be. Working alongside Ace and other artists is Aurora, a Wayúu/Mapuche QPOC tattoo artist. I can personally attest to Aurora's trauma-sensitive and compassionate but powerful art practice. As anyone who has experienced a tattoo with them can confirm, their approach to skin is at once affirming and healing. Their vision and dedication to the craft have helped me reconnect to my body as they work on an ongoing front piece, which takes from religious images from my complicated Latinx Catholic upbringing and recontextualizes them as icons of queer magick. Likewise, they help other clients affirm their many intersections: not only as queer and trans people, but also as vessels of black and indigenous motifs and iconography, which they will only tattoo on people with direct ties to these ancestral art forms.
As one of the artists responsible for running the whole studio, Aurora brings care, respect and a non-hierarchical sense of solidarity and mentorship to the workspace.  But cultivating a space as welcoming and safe as Tres Leches is is no passive task. As Ace reminded me, many places purport "safety," but in practice fail to do so: "When I was femme I had a lot of degrading and all around shitty experiences at tattoo shops. I also experienced a lot of racism in these shops as well as transphobic behavior. Some of these events happened in spaces that had claimed to be safe." Tres Leches Studio prides itself in actively practicing community: "we are not the kind of space where femme clients and women have to feel uncomfortable disrobing. We are not the kind of space that takes lightly to racist, homophobic, misogynistic, or transphobic comments because we do not welcome that energy in our tattoo fortress. We work really hard to keep this space because we have all experienced trauma surrounding being brown or black or femme or queer."
A tattoo can be a life-long monument to one's own story. It is intimate, yet it can also become a fierce public display of self-ownership and self-determination, a source of gender euphoria that boldly proclaims its power to those who gaze upon it. Our bodies become vessels of communication and aesthetic expression through a highly-personalized ritual of trust and care between artist and client. And on the other side, we emerge in power and celebration of our gender expression, itself a crucial form of creativity and vitality in a world often incredibly hostile towards what exceeds its restrictive norms. As part of a holistic web of gender-affirming practices, tattooing offers yet another artful way through which we carry our truth in our resilient skins. 
A note for those interested: Get tatted by Ace, Aurora, or any of the lovely folks at Tres Leches! Ace's Instagram is @thehoodedace. Aurora can be found at @lacochina. Tres Leches Studio's page is @treslechesstudio.